Friends of Christ appointed
Army's 41 newest lieutenants charged with service
By Christin Davis
Anticipation ran high for the Service of Appointments, the concluding meeting of The Gathering 2012, with 5,400 attendees from across the Western Territory.
A parade of previous session flags and announcement of the long service awards preceded the entrance of the Friends of Christ—The Salvation Army's newest lieutenants. Along with the now second-year Proclaimers of the Resurrection cadets, the College for Officer Training Chorus sang this year's session song, "Friends of Christ."
"Our session name is one that sets a different tone than most sessions," Lt. Caroline Rowe said in her speech as the session representative. "Some would say it sets a softer tone, but to me I look at our session name as a challenge set before us. There have been warriors, famous people in the Bible that were called friends of God, and they set for us a standard or example to follow if we want to live up to our name, the Friends of Christ."
Rowe gave examples of these biblical friends including Abraham, who lived in faith; Enoch, who fellowshipped with the father; and Moses, who had a teachable spirit.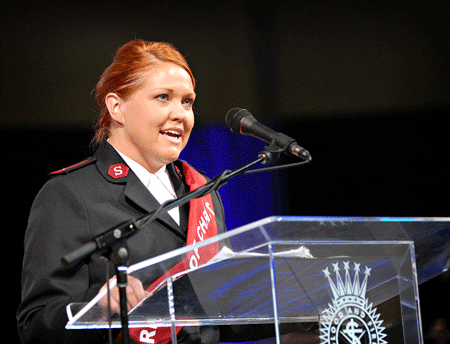 "To my fellow session mates, let us boldly declare that we are the Friends of Christ, not just because it is the name of our session but because of our faith in God, our walk with the Father and our teachable spirits," Rowe said.
In her charge to the lieutenants, General Linda Bond gave the new officers five pointers. First, be yourself. "Don't try to be like anyone else," she said. "Learn who you are and be yourself." Second, be holy. "Be like Jesus, set apart for his service, separate from sin," Bond said. "This means integrity…that your words match your walk." Third, be faithful. "Be faithful to the tasks of your office and to preaching and teaching the word of God," she said. "Work hard." Fourth, be loving. "Make life an adventure," Bond said, instructing the officers to invest in their children, family, friends and their people. Fifth, be his. "You belong to him; be his first and foremost," Bond said. "Spend time sitting with the Lord. Cultivate relationship with him."
Bond said there are 366 verses in the Bible that instruct us not to fear, but to be strong and courageous. "Trust me, whatever this appointment is, you can do it," she said. "Be strong and courageous."
Standing before Territorial Leaders Commissioners James and Carolyn Knaggs and 5,400 anxious onlookers, each of the 41 new lieutenants received his or her first appointment as an officer in The Salvation Army.
In appreciation for her participation in The Gathering, the Knaggs presented Bond with a framed photo of Evangeline Booth with Booth's original signature. The crowd gave her a standing ovation.
"I'll remember these days for a long time," Bond said, "and I pray that people will keep getting saved."