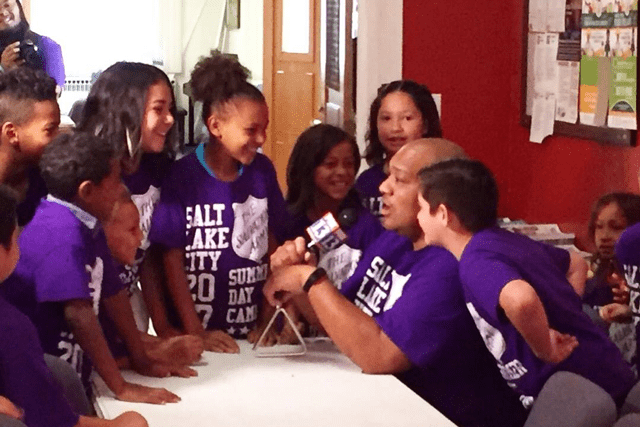 Fox News in Salt Lake attends summer day camp
Big Budah entertains and educates TV viewers about Salvation Army programs and social services.
By Mike Dale –
Morning TV personality Big Budah from FOX affiliate KSTU-TV in Salt Lake City, Utah, spent the morning of July 12 at summer day camp sponsored by the Salt Lake City Corps of The Salvation Army.  During the live three-hour morning broadcast, Big Budah interviewed Major Troy Trimmer and several staff members about the social programs and services offered by the corps, while enjoying fun activities with the kids.
During eight live segments, viewers of FOX 13-TV learned about the summer day camp, which provides a safe place for parents to send their children. The program develops teamwork,  and emphasizes education, recreation and character building through service. During the show, campers were seen doing arts and crafts, enjoying a drum class, filling humanitarian kits and playing dodge ball on the outdoor field.
The various social ministries of The Salvation Army were highlighted including the meal programs for children and families, and emergency food pantry boxes to those in need.
"Summer is a lean time for nonprofits and we rely on our partnership with Utah Food Bank and donations from the community to meet the food insecurities we see, especially among children and the elderly in our community," Trimmer said.
The morning broadcast gave the Salt Lake City Corps an opportunity to appeal for donations through their website. "With the generosity of the community, when dimes and dollars go in, change is what comes out," Trimmer said.