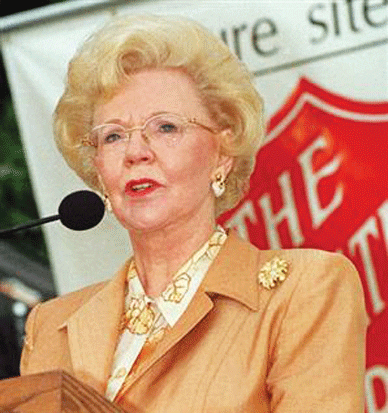 Flagship Kroc Center celebrates 10 years
San Diego Salvation Army Ray and Joan Kroc Corps Community Center
 By Julie Willis and Maria Todaro
June 19 marks the 10th anniversary of the first-ever Salvation Army Ray and Joan Kroc Center in San Diego, Calif., and the Kroc Center is preparing for a 10-day celebration from June 15-24.
"We are thrilled to share this historic occasion with the community and are so thankful for their support and friendship," said Corps Officer Major Rick Peacock. "Joan Kroc provided us with an amazing vehicle to change lives, and community support is really essential to move us into the future."
Each day of the celebration will offer the community a free opportunity to participate in a Kroc Center program or activity, including family soccer, an acting workshop, and participation in venue activities; download free passes at kroccenter.org.
A commemorative event June 19 in the Joan B. Kroc Theatre will take guests through the center's past, present and future, followed by a community concert by the Dr. Seuss Fund with performance by the San Diego Concert Band on the grass recreation field in the heart of the Kroc Center and food from vendors of local San Diego restaurants. Event sponsors include: the Dr. Seuss Fund, 10News, Azteca America, San Diego Car Care and Suffolk ROEL.
In 1998, Joan Kroc generously donated $87 million dollars toward the development of the first Kroc Center in the Rolando neighborhood of San Diego, Calif. At the press conference announcing her gift, she recalled taking a tour of San Diego that deeply touched her heart: "I realized they [children] desperately needed a safe gathering place, a place with facilities and trained professionals to nurture their social skills, arts appreciation and athletic potential."
In the four years that followed, Kroc—with The Salvation Army—dedicated volunteers and the community worked together to create a world-class facility that would bridge the gap between potential and opportunity for all who walked through its doors.
On June 19, 2002, the sprawling 12.4-acre campus that houses several buildings ranging from a 600-seat state of the art theater to an NHL-regulation sized ice arena opened to the public. Today, approximately 5,000 members and thousands of guests of all ages are engaged in activities such as ice-skating, fitness classes, skateboarding, rock climbing and swimming.