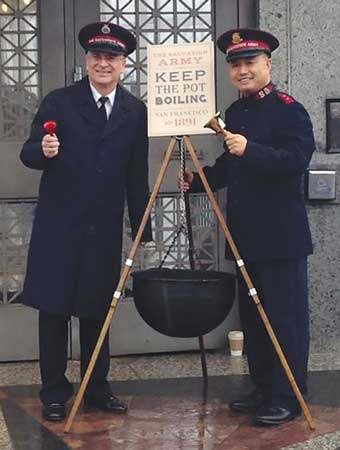 First kettle reenacted in the Bay Area
Captain Joseph McFee set up the first kettle in 1891.
By Laine Hendricks
The Salvation Army San Francisco Metro (Golden State Division) and Alameda County (Del Oro Division) commands collaborated to kick off the 123rd annual Red Kettle Campaign by returning to the birthplace of the kettle—the Oakland Ferry landing near the San Francisco Ferry Building.
A special re-enactment ceremony commemorated the first kettle and The Salvation Army officer whose "start-up" idea evolved into a universally recognized and iconic holiday charity campaign.
The original kettle is attributed to Salvation Army Captain Joseph McFee, who in 1891 wanted to provide a free Christmas dinner to the poor in San Francisco. He recalled his days as a sailor in England: on the Stage Landing he would see a large pot—called "Simpson's pot"—into which passersby tossed their charitable donations. The next morning, McFee secured permission from city authorities to place a similar pot at the Oakland Ferry landing, at the foot of Market Street. He displayed the pot with a sign that read, "Keep The Pot Boiling." Word spread quickly about the collection and soon the captain had enough money to feed hundreds of people.
"The goal of the Red Kettle Campaign is the same today as it was over 100 years ago: give individuals an easy and a practical way to help those in need within our community," said Major Rob Birks, San Francisco Metro coordinator for The Salvation Army. "Whether it's coins, dollars, or a credit card donation, every gift counts and can provide help and hope during this holiday season."
Last year, over $1,000,000 was raised through kettle locations around the Bay Area, including at the store fronts of grocery stores, retailers, movie theaters and other locations.
This holiday season, The Salvation Army is expecting to assist nearly 4,000 families with food and toys in San Francisco and Alameda counties alone. The combined pressure of increased need and decreased giving during the recession means The Salvation Army is more reliant than ever on public support at Christmas this year.
"We strongly encourage everyone to give at a red kettle, volunteer as a bell-ringer or even volunteer at a Salvation Army community center in your neighborhood," said Captain Dan Williams, Alameda County coordinator for The Salvation Army. "The most important thing is to give back."