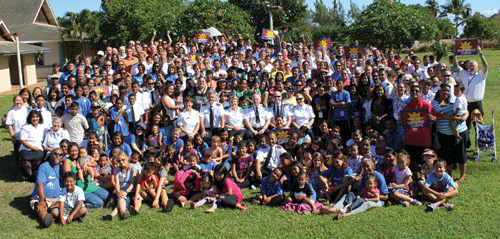 Family camps held across the West
One Ambition: To Be Like Christ
 By Heather Andreasen
Salvationists in the Southwest Division gathered in Mesa, Ariz., over Labor Day weekend for the Deeper Life Family Camp meeting, themed "One Ambition."
Attending from territorial headquarters were Commissioners James and Carolyn Knaggs, territorial leaders, and Majors Glen and Linda Madsen, secretary and associate secretary for spiritual life development.
Friday's welcome celebrated the Southwest's diverse cultures. Women from the Tucson Korean Corps presented a fan dance dressed in traditional attire. Phillip Gonzalez from the Apache Junction Corps sang a mariachi-style song in Spanish. With modern translation equipment, language presented no barrier.
Saturday's events included men's and women's rallies, workshops, and a trip to the zoo for the kids. The workshops—conducted in Spanish and Korean as well as English—offered information on prison ministry, God's vision for one's life, and the heritage of Salvation Army music.
Saturday evening's highlight was the presentation of Brengle: My Life's Ambition, a musical production celebrating the life of Commissioner Samuel Logan Brengle, to an audience of 1,100 Salvationists, board members, donors, and community members. It was the desire of Lt. Colonel Rhode Danielson to see this musical performed at Deeper Life, but God called her home before she was able to see her dream become a reality. To honor her memory, Divisional Bandmaster Ralph Pearce assembled a company of officers, soldiers and friends of the Army to put together the presentation.
Captain Randy Hartt, who portrayed 71-year-old Brengle, said that the lines he memorized so affected him that they changed his life. Captain Robyn Bridgeo, who played young Brengle, shared a similar sentiment, stating, "In the song 'Dream of My Own,' the words, 'Your Spirit helped me to see that it's not about me, but all about you…so I'll blacken their shoes, my ambition to lose, and doing so like you I'll be,' has become my life's ambition."
Sunday morning's Holiness meeting closed the weekend. Knaggs enrolled 21 senior soldiers, 10 junior soldiers and seven adherents. New senior soldier, 16-year-old Desiree Montoya, testified how God, through The Salvation Army, has worked in her life since the death of her mother. Junior soldier, William Park, only 7 years old, shared how proud he is to be a junior soldier, and how God answered his parents' prayers for a child.
Knaggs' challenge to the congregation brought many people to their knees as they gave their lives to Christ, reconciled broken relationships, and renewed their commitments to God. Delegates could sign their names on a cross made of 2×4's, representing how we are to be united to Christ, united by Christ, and united for Christ. Lt. Colonel Joe Posillico, Southwest divisional commander, indicated that the cross would be placed in the foundation of the new divisional headquarters building, currently under construction, to symbolize our desire to have Christ as our spiritual foundation.
Throughout the weekend, delegates realized their one true ambition—to be like Christ. Salvationists in the Southwest left the camp meetings renewed and encouraged to go out and share that ambition with others.
Soaring high at Family
Camp in Hawaii
 National leaders, Commissioners William and Nancy Roberts, lead the event.
Hawaii's blue skies on the North Shore of O'ahu were filled with multi-colored kites that soared as high as the lifted hearts and spirits of 430 campers. It was the largest Labor Day Family Camp gathering at Camp Homelani in The Salvation Army Hawaiian and Pacific Islands Division's history.
This year's event was themed "Soar," from Isaiah 40:31: But those who hope in the Lord will renew their strength. They will soar on wings like eagles; they will run and not grow weary, they will walk and not be faint.
Commissioners William and Nancy Roberts, national leaders, led the meeting supported by Lt. Colonels Doug and Diane O'Brien, Western territorial secretary for personnel and secretary for community care ministries, respectively. They enrolled and commissioned 50 junior and senior soldiers, adherents and local officers.
Workshops provided information on wellness, the hidden dangers of social media among youth, soaring in God's eyes, and how corps officers can stay encouraged.
It was a weekend of fun, relaxation and most importantly, an encounter with God in Scripture, punctuated by the sounds and sights of ukulele, joyful singing and hula. Campers enjoyed a taste of Hawaii's diverse cuisine—smoked meat, barbecue on a stick, "shave" ice and chile burritos. Along with baseball, volleyball and other games, a highlight of the event was making and flying kites in the beautiful oceanfront setting of CampHomelani.
"As I left camp, I couldn't help but reflect that regardless of the family you were born into, God's family plan for us is even grander and more spectacular than we can ever imagine," said Lieutenant Kelly Pensabene, Kona corps officer. "It defies all segregation and reminds us that for all of us who have chosen God, there is no greater unity."
'Rooted' in Christ
 Northwest Division Family Camp delegates strengthen their roots.
By Bee Bryant
Salvationists in the Northwest Division took root at the 2011 Family Camp, held at Camp Arnold in Eatonville, Wash., over Labor Day weekend. Setting aside everyday concerns, participants used this time to explore the camp theme, "rooted," building up their roots in Christ.
At the welcome meeting, Commissioners James and Carolyn Knaggs installed Majors Doug and Sheryl Tollerud as new divisional leaders. Major Doug Tollerud spoke about being evangelists. "Our job is to love the whosoever," he said. "People must see Christ in us; we must be different."
The praise team, led by Matt Woods, divisional music director, and Major Lisa Smith, Spokane corps officer, combined a traditional brass ensemble and a praise band. They set the mood for worship throughout the weekend.
Saturday began with prayer groups in both English and Spanish. Men's and women's rallies took place, and workshops covered everything from Bible study and prayer, to teen spirituality, to chocolate and fishing. The gardening workshop took the theme to heart, as delegates planted new shrubs around the camp. Afternoon activities included boating, a carnival and softball.
After the Seattle Temple Songsters kicked off the Saturday night meeting, Knaggs received the Northwest Division's world service ingathering check for $627,332. New junior and senior soldiers from the Puyallup Valley and Federal Way corps were enrolled.
Knaggs' Sunday morning message brought a mighty moving of the Spirit. He focused on the theme verses from Colossians 2:6-7: So then, just as you received Christ Jesus as Lord, continue to live your lives in him, rooted and built up in him, strengthened in the faith as you were taught, and overflowing with thankfulness.
After the message, each corps met to pray for its officers and members.
'New dawn' at Latino Family Camp
More than 400 delegates attend Southern California divisional event.
 By Erick Rodriguez
Over 400 delegates from throughout Southern California gathered at camps Mt. Crags and Gilmore in Calabasas, Calif., for Latino Family Camp, Aug. 26-28. Led by Majors Hector and Ana Diaz, with the support of other officers and leaders, the event offered strength and renewal to all participants.
Majors Esteban and Ileana Calvo, special guests from the Latin America North Territory, encouraged delegates with their presentation of God's Word. In a powerful testimony, Major Ileana Calvo recounted the miracle of healing that God performed for her daughter, Ariana.
In his message, Major Esteban Calvo urged listeners to be "winners in Christ" in the midst of crisis, recalling that, as children of God, "all of us have an unbreakable salvation through Christ, by the power of the Holy Spirit and confidence in the heavenly Father." A positive mindset and attitude reflect confidence in God's greatness, Calvo said. God wants "winner" families to bring hope to a world in great need.
"Conflicts in the home" and "families overcoming crisis" were workshops designed to strengthen family ties in difficult times and bring a "new dawn" to the family group. Youth workshops included "hope in God" and "our identity in God."
Teams from San Pedro, San Fernando Valley and Santa Ana led mighty times of worship throughout the weekend.
The Sunday morning message reminded delegates to remain faithful in times of crisis. In answering the question, "Where is God when trouble comes?" the audience concluded that he is in control—working, sustaining, encouraging and calming.
Participants thanked Divisional Leaders Lt. Colonels Victor and Rose-Marie Leslie for their support, the officers and leaders for their hard work, and all the Southern California corps for the great example of unity, fellowship and love that prevailed during the weekend.