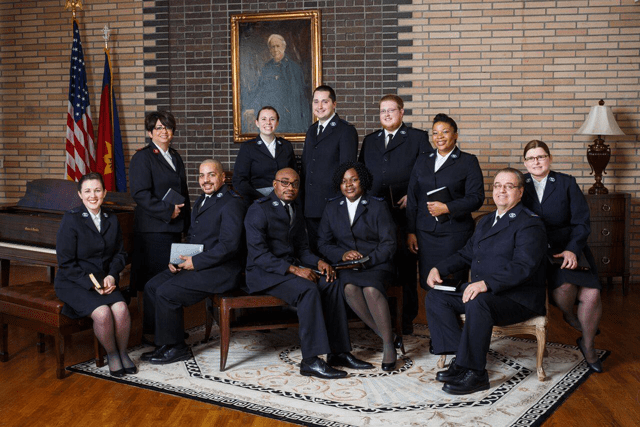 Fairbanks Corps welcomes Fearless Brigade
Cadet brigade ministers in Fairbanks during spring campaigns.


The Fairbanks (Alaska) Corps, led by Majors C. Joseph and Florence Murray, welcomed the Fearless Brigade of cadets from the College for Officer Training at Crestmont to the far north for a week of spring campaigns. The corps is not only the northernmost in the Western Territory, but also in the U.S., and almost in the world, according to C. Joseph Murray.
The Fearless Brigade includes Brigade Officer, Captain Clarissa Ochoa; Brigade Sergeant, Cadet Perfecta Weeden; and members, Cadets Faith Hartt, Stephen Hartt, Joseph Morefield, Clairette Asobo, Pathy Asobo, Aleen Bradley and Jeremy Alexander.
Alaska divisional leaders, Majors Mike and Cindy Dickinson, attended the Sunday worship service, led by the cadets; Cadet Weeden brought the message. During the meeting, Major Mike Dickinson enrolled two senior soldiers, Monique Leyva and Dorothy Machida.



While in Fairbanks, the cadets led two evening praise meetings at the corps and conducted a worship meeting at the Denali Assisted Living Center, where Stephen Hartt gave the devotion. Afterward, the Murrays gave brigade members a tour—they saw part of the Alaska Pipeline, several moose, and the distant glow of the Northern Lights.
Among other activities, the brigade, with members of the Fairbanks Corps, conducted a short march and held an open-air meeting at an apartment complex, where they had listeners of all ages.
 "The Fearless Brigade fearlessly faced the cold conditions of Fairbanks while they ministered to God's frozen, chosen, C. Joseph Murray said. "It was a week filled with field training opportunities. God's Holy Spirit warmed the hearts of many through the ministry of the cadets, and in turn, the members of the brigade testified to being blessed. It was truly a week of enrichment for all who were involved!"
More recently, the corps increased its Community Care Ministries membership to 15, with the enrollment of Dale Cameron, Monique Leyva and Cyndee Polzin.