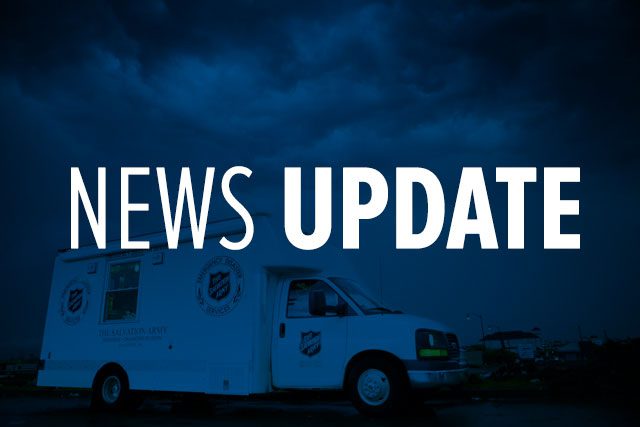 Army funds typhoon emergency response in Chuuk
The Salvation Army Hawaiian & Pacific Islands Division set up an donation page to help fund emergency response efforts for residents of Chuuk affected by Super Typhoon Maysak.
The Salvation Army operates the Chuuk Corps in Weno and an Outpost in Wichap. Communication has been difficult since the storm struck Sunday evening and headed towards Yap and The Philippines. The division's Guam Corps in Tayan has been assisting in outreach to Chuuk.
 "We heard from our Chuuk Corps on Monday evening their time that they had been providing food, water and shelter to about 50 people starting Sunday evening and they anticipated sheltering upwards of 100 people starting last evening," said Major Mark Gilden, divisional secretary for business for The Salvation Army Hawaiian & Pacific Islands Division. "Power was out and, since local stores were closed, residents have been unable to purchase food or water. Volunteers also have been cleaning road debris to help provide access to nearby businesses and other locations."
Last week, Super Typhoon Maysak quickly grew into the equivalent of a Category 5 hurricane with maximum sustained winds of 160 mph. Weather Underground's Dr. Jeff Masters noted this may be just the third super typhoon in since the 1940s with estimated winds that strong prior to April.
Maysak is also only the fifth super typhoon of record prior to April 1, according to senior digital meteorologist, Nick Wiltgen. A western Pacific tropical cyclone is named a "super typhoon" when maximum sustained winds reach 150 mph. The last such pre-April super typhoon was Super Typhoon Mitag in March 2002.
Prior to becoming a super typhoon, Maysak caused significant damage and killed at least five people in the Chuuk state of Micronesia, according to The Associated Press.
The public is encouraged to support the emergency disaster services efforts via monetary donations at www.hawaii.salvationarmy.org or by calling The Salvation Army Hawaiian & Pacific Islands Divisional Headquarters at 808-988-2136. One-hundred percent of the donated funds will support The Salvation Army's emergency disaster services in Chuuk.