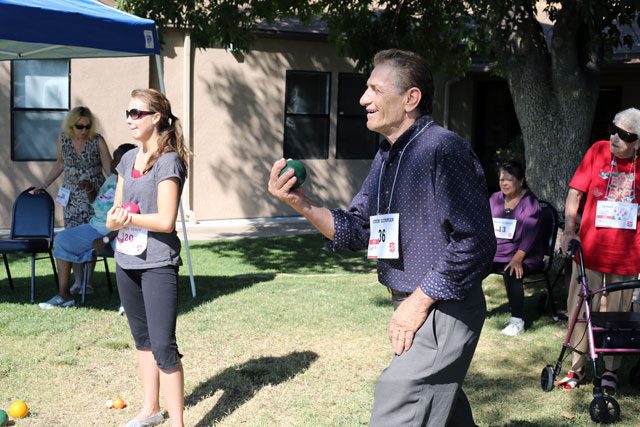 Removing barriers
Salvation Army Olympics help Iraqi refugees and residents build community.  
By Erica Andrews – 
He stepped up to the line on the crisp grass, swung his arm back with high velocity and shot it forward. Salem Hanna, 66, was determined that his ball would reach the farthest number. The ball rolled through the grass, stopped next to a bright orange cone and a volunteer yelled out, "80!" Hanna smiled as others cheered, he had reached his goal.
"I enjoy being with the people and having fun," Hanna said. "I come for them; not myself."
Hanna and 30 others competed in lawn bowling, basketball and a bean bag toss at The Salvation Army Senior Olympics event at the Silvercrest in El Cajon, Calif.. Many participants are Iraqi refugees.
According to the International Rescue Committee, in the six years since the U.S. started admitting refugees from the Iraq War, more than 11,000 Iraqis have arrived in the San Diego area, with a vast majority settling in El Cajon. To help facilitate the event, volunteers were trilingual to accommodate Arabic and Spanish speakers.
"Especially here with the cultural barrier happening with a lot of the Iraqi refugees and immigrants coming in, this allows them to work with each other, play together and laugh together," said Karin Ingrande, El Cajon Silvercrest Residences services coordinator. "It's relationship building and socialization. All those things really help prevent a lot of conflict from happening and a lot of acceptance to start happening."
The Olympic games were held once a month, starting in June and ending in October, giving residents from Silvercrest, 60 and up, the chance to participate for free. Early in the morning, residents would gather in the Silvercrest lobby and walk next door to The Salvation Army El Cajon Corps outdoor lawn. Attendees from the neighboring corps also joined in on the competition.
"It's a sense of community," said Stacy Dertien, Sierra Del Mar divisional volunteer coordinator. "Each of the stations are staffed by volunteers, so I like watching them get excited and they really help to get the seniors excited—making the whole event high energy."
Volunteers help track scores to award medals at the end of the games. Elaine Dacatur, 67, received a silver medal for lawn bowling.
"Well I didn't win the lotto, but this is good," said Dacatur, who has been attending since June. "I like the people here and really like the game. You get to interact and mingle with your friends. I miss them when I don't see them. It's great social networking."
Ellen Toma, 68, a refugee, also received a silver medal for her efforts in basketball. A former teacher in Iraq, Toma said she was excited to show her athletic ability.
"My first time playing basketball was here," Toma said. "I really like it."
As the last day of The Salvation Army Senior Olympics was winding down, Ingrande said she hoped they would do it again next year, pending funding.
"Programs that incorporate health and wellness are always such a great asset to the residents because it reminds them that they are capable and it gives them something to look forward to," Ingrande said. "It means they matter and that they shouldn't give up."