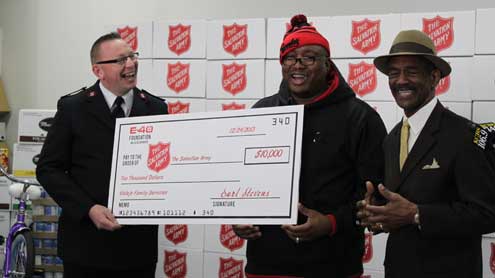 E-40 donates $10,000 to The Salvation Army
Hip hop superstar gives back to his hometown
The Salvation Army of Vallejo, Calif., received an early Christmas present when hip hop recording artist E-40 presented a $10,000 check to the organization on Christmas Eve.
"I picked [The Salvation Army] because I feel like that's a place you can go when you need clothes on your back or food in your stomach," E-40 said. "They don't turn you away."
E-40, legally Earl Stevens, is a Vallejo native who has recorded more than 20 albums. He said The Salvation Army assisted his family during Christmas when he was young, which was another reason for his contribution.
"When you're dealing with donations, you want to make sure that dealing with reputable people," he said. "The Salvation Army is reputable. My family always taught me to give and believe in God."
The Christmas Eve donation served as a big shot in the arm for The Salvation Army, which has seen a shortfall in Red Kettle donations. Compared to last year's total, donations to The Salvation Army of Solano County are down by 30 percent.
"This is definitely a Christmas miracle," said Capt. Jonathan Harvey, Salvation Army Solano County Coordinator. "We've been standing faithfully for this season, and with a belief that God was going to provide. We knew it had to be big, and we didn't know how. I've been struggling with the how, and we got the answer today. It's tremendous."