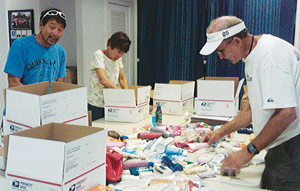 Doing unto others
Corps reaches out to orphans of fallen Iraqi policemen.
When Cliff Spencer, a Salvation Army volunteer, heard that the Hawaii National Guard wanted to help the orphans of Iraqi policemen killed in the line of duty, he returned to The Salvation Army Kahului Corps and Point Man Ministries to collect donations.
Corps members—along with other Maui donors—quickly responded with enough items to fill 15 boxes. Each box contained hygiene kits, clothing and candy for the widows and children of fallen policemen in Baghdad.
"This was a way for us to show compassion to the Iraqi police families," Colonel Matthew Nagasako, Hawaii Army National Guard, said. He noted that many children will be expected to give up school and to provide for their family.
Captains Mark and Kathy Merritt are Kahului corps officers.