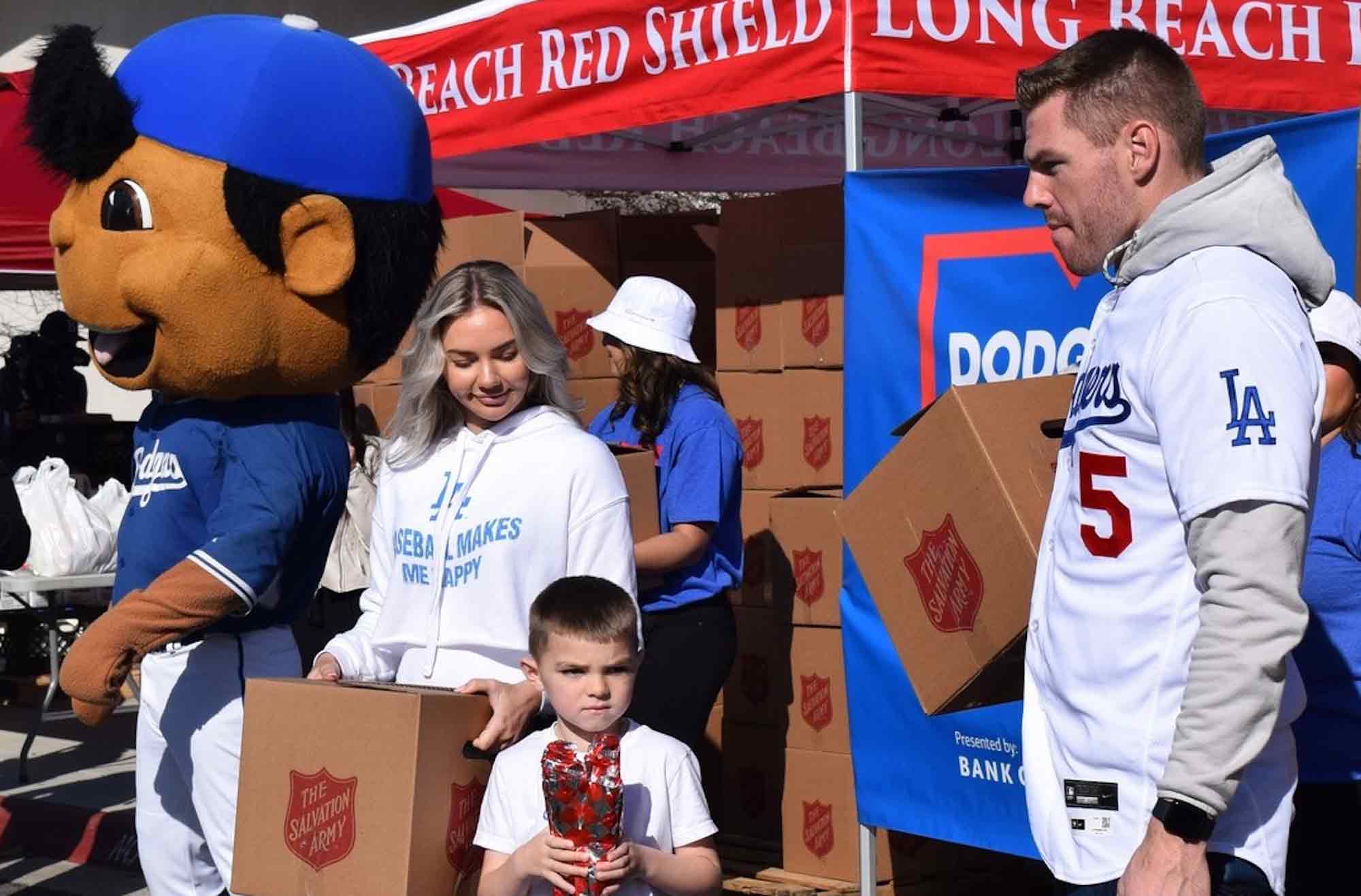 LA Dodgers first baseman Freddie Freeman helps out at The Salvation Army
Food distribution event at the Long Beach Red Shield kicks off the annual Dodgers Love LA Community Tour.
Los Angeles Dodgers first baseman Freddie Freeman traded the baseball diamond for the parking lot of The Salvation Army Long Beach (California) Red Shield Center during a Jan. 31 drive-through food distribution that was part of the Dodgers Love LA Community Tour, sponsored by Bank of America. The annual tour aims to bring the spirit of the team to all of LA through acts of service.
Tickets for the event went to 150 families, all clients of the Long Beach Red Shield Salvation Army. Captain Christina Arnold, Red Shield Corps Officer with her husband, Jared Arnold, said all the families who received tickets to the event were known to them—they had children in the home and needed food assistance, a growing concern in light of rising costs.
According to the U.S. Bureau of Labor Statistics, prices for at-home food in the LA/Long Beach area rose 9.3 percent during 2022, with a 17.7 increase for cereals and bakery products. The food boxes make a difference. For this event, each box was packed to feed a family of four for four days, three meals per day, for a total of 7,200 meals served to 600 individuals.
"[This event] is a collaboration for the people in need," Jared Arnold said. "If you've looked at grocery bills recently and how things have skyrocketed, this is massive. This is providing families an opportunity to make it one more week. And our services are available to them well beyond. This is a good kickstart to allow us to continue serving this community."
Christina Arnold said the families received a variety of food items: chicken, eggs, produce and dry goods. She noted how challenging it was to find enough eggs, considering the current egg shortage.
"There was one really sweet moment," Christina Arnold said. "As the food was placed in the car, a little girl exclaimed, 'Mom, look! We got milk.'"
During the event, Freeman presented The Salvation Army with an additional donation—a check for $5,000.
"It's a huge help," Jared Arnold said as he accepted the check. "Just the opportunity to see partnerships between community members like the Salvation Army and the Dodgers … that's what we would like to promote, that we're doing this together. It's a collaboration for the people in need."
For Freeman, the connection with The Salvation Army is personal. As soon as he found out about The Salvation Army event, he enlisted his family members to help him hand out food boxes, gallons of milk and Dodger Dogs.
"I'm in a long line of Salvationists," said Freeman. "We actually have four generations of Salvationists here—my grandfather [retired Bandmaster Ed Freeman], my dad, me and my son, Charlie. So this is a pretty special day for us to be able to give back with The Salvation Army."
A California native, Freeman returned to his home turf in 2022, joining the Dodgers after 12 seasons with the Atlanta Braves.
"It's just special being back, and especially [near] the place where I grew up in Orange County, to come out and do stuff like this," said Freeman, whose wife Chelsea also attended. "We've got two more [children] at home that hopefully will be a part of this going forward. That's why we're here and that's why I wanted to bring Charlie, to start early with him. It's truly an honor to be a part of this."
Christina Arnold recognized that events like this one can impact not only those in need, but also those who can help by showing them they can make a difference.
"We have the people—we need the resources," she said. "[For this event] we had the space, we had the clients, and they had the resources. So we were able to get together and meet the need."
She said they look forward to forming similar partnerships. Ultimately, the goal is to do the most good, for the most people possible.
"Long Beach is full of generous people who want to do good, but they don't know how," she said. "We're happy to be that outlet. We're already in contact with so many people in need, but with partnerships, we can do so much more.
"For our clients to see someone else care for them, side-by-side with us, it blesses them," Arnold said.
---
Do Good:
You've probably seen the red kettles and thrift stores, and while we're rightfully well known for both…The Salvation Army is so much more than red kettles and thrift stores. So who are we? What do we do? Where? Right this way for Salvation Army 101.
What does it mean to do good? Where can we discover joy? What is it really like to be homeless? How can I raise a kind kid? Subscribe to The Do Gooders Podcast to find these episodes and much more—all to help you be inspired to do good right where you are.
Read more about The Salvation Army's impact within the Long Beach, California, community.