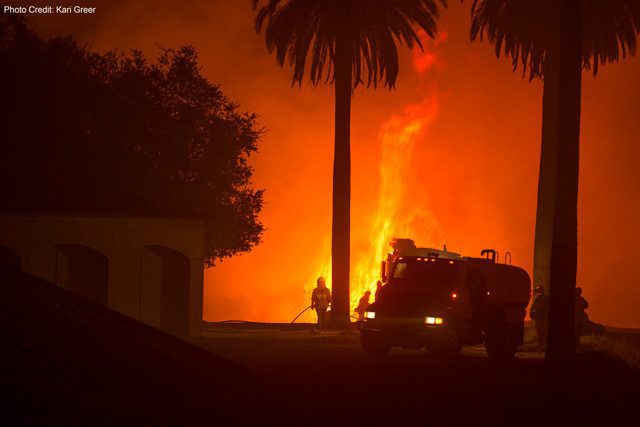 Disasters pound California coast
Residents of Ventura and Santa Barbara counties repair and rebuild from the biggest wildfire in modern state history and a deadly round of mudslides.

The scarred hillsides above Highway 101 near Ventura, California, remind passersby of the devastation that unfolded on Dec. 4, 2017. And for many residents in the area, its aftermath still lingers.
The Thomas Fire, the state's largest officially on record, broke out near Santa Paula, and quickly spread on the back of heavy Santa Ana winds. In all, it forced the evacuation of tens of thousands of people in Ventura and Santa Barbara counties, destroyed 1,063 structures and took two lives.
Over a quarter million Southern California Edison customers lost power as a result of damage from the fire. Officials issued air quality warnings for many areas due to dangerous levels of smoke and particulates.
The Salvation Army responded nimbly, working with groups across the region to serve impacted residents. The community also came out in full force to help each other. In fact, their generosity was a little overwhelming, at times.
"The first two weeks, we had so many [in-kind] donations that we couldn't store them all, so I had to request four extra storage containers that I set up in our parking lot," said Lt. Fabio Simoes, Ventura Corps Officer. "People donated from everywhere—Massachusetts, Delaware. It's crazy how many people supported us."
During the peak of the initial response, The Salvation Army staffed two major evacuation shelters and distributed over 5,000 meals in total. As the need for shelters abated, The Salvation Army transitioned toward assessing the individual needs of impacted residents.
Now, Simoes said, the biggest challenge lies in placing the displaced. The Salvation Army is distributing financial assistance to families moving into new places as well as those looking to repair their damaged homes. They've given over $150,000 to families in Ventura, usually in amounts of $1,500 or less. They expect to dole out another $400,000.
"Some of our families here have lost everything," he said. "And some of them were working on farms that just burned up, so we're trying to help them find jobs as well. A few members of our corps have even opened their doors to [impacted] families and helped them…There's a lot of potential to support people here and show them what The Salvation Army is all about."
From fire to floods
A few weeks later, about 40 miles north of Ventura, in Montecito, the National Weather Service sent an SMS flash flood warning to more than 17,000 people in the area. Then, about an hour later, a full inch of rain poured down in a span of about 20 minutes, and the unthinkable happened.
A torrent of mud and debris crashed through the city, whisking away cars, flooding homes, dislodging them from their very foundations. And suddenly, a community tormented by the Thomas Fire just weeks earlier, was bearing the effects of yet another major disaster.
"It's like a mixture of devastation and resilience here," said Lt. Jeff Walters, Santa Barbara Corps Officer. "I think the community is still in shock. You see it on the news. The videos tell the story. Our people are still trying to digest what happened."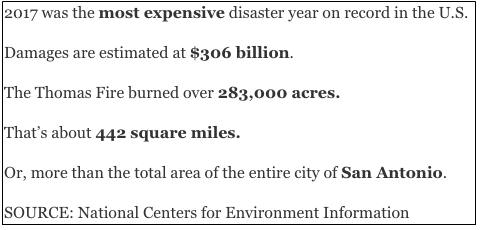 In the wake of the deluge, The Salvation Army deployed a team to serve first responders, as search and rescue crews trudged through the wreckage of the massive debris field. "It's not like a fire or a regular flood, where it recedes, moves on and you can go in," Walters said. "It's a dangerous situation."
In the days that followed, they worked to get clean-up kits and rental assistance into the hands of any and all residents who could use them. Walters also noted that the recent wave of disasters has sparked a noticeable uptick in demand for The Salvation Army's other services—namely its food pantry.
Looking ahead, officials caution that Santa Barbara County may be prone to flooding and mudslides for years to come. Researchers have documented that the physical impact of wildfires can last for decades, so they're urging residents to be on high alert.
"With this area, it just seems like it's nonstop," Walters said. "In the past two-and a half years, I've seen three major fires. It's gotten to the point where, every year, you just know that there's going to be some sort of fire, some sort of disaster. But that's one of the reasons why The Salvation Army is here. We can't just sit back. We've got to be ready to go."