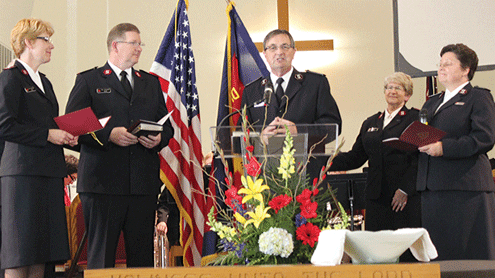 Dickinsons installed as Del Oro leaders
New divisional commander seeks innovation, creativity.
The Del Oro Division's new leaders, Majors Bill and Lisa Dickinson, divisional commander and divisional director of women's ministries, respectively, received official installation by Western Territorial Leaders Commissioners James and Carolyn Knaggs March 3 at the Sacramento (Calif.) Citadel Corps.
The Dickinsons have held appointments in North Las Vegas and Prescott, Ariz., and the Southwest and Northwest divisional headquarters.
"It's wonderful to look back and see God's fingerprints, molding and shaping my life," Dickinson said, reflecting on his call to officership in the mid-1980s at the Spokane (Wash.) Corps. When he heard Major Bill Nottle  speak on "serving," he imagined himself as part of the Army's ministry, thinking, "Hey, I can do that."
And he has been doing it for over two decades, most recently as divisional secretary in the Northwest Division.
"Being a divisional commander is a big role for sure," he said. "I want to continue to be a servant and to be accountable to the corps within our division.
"My vision for Del Oro is that we're a division that's innovative, creative—that's bold in order to tell the Good News of Christ to other people. I believe God is doing great things in Del Oro and I want to continue that."
He knows, however, that a stagnant and struggling economy will be a major hurdle for the division. "Finances are tough, but they're tough everywhere," he said. "I know God will supply for our needs. He'll send us the resources to do the work, if we're faithful.
"I never claimed to be smartest guy here," he said. "I need to continue to learn from those around me. I have confidence in the abilities God has given me, but I have more confidence in God, that he promises to equip us for what he's calling us to do."
Major Lisa Dickinson also spoke about her new role as a divisional leader, finding encouragement from Joshua: "Be strong and courageous, Do not be afraid…for the Lord your God will be with you wherever you go" (Josh. 1:9 NIV).