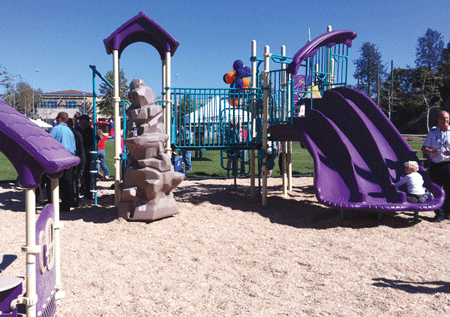 Designed by kids, for kids
San Diego Kroc Center has a new, custom-designed playground. 
The drawings of children in San Diego have taken on new life as a playground at The Salvation Army Ray and Joan Kroc Corps Community Center.
In less than eight hours, the playground materialized Oct. 13 on the recreation field with the efforts of over 200 volunteers from Foresters, The Salvation Army and non-profit KaBOOM!. Thanks to these volunteers and support from local businesses, children and their families now have a 2,730 square-foot playground that includes swings, a triple slide, a play cabana and a unique ADA swing.
"Foresters believes in providing opportunities for families to spend quality time together," said Kasia Czarski, Foresters senior vice president, chief membership and marketing officer.
Planning for the playground began at a Design Day event in August with local children, community leaders and partner organizations. The kids drew their dream playgrounds, and adults found elements from catalogs that represented the children's vision.
Since 2006, Foresters has invested over $7 million with KaBOOM! and built or planned nearly 100 playgrounds across the U.S. and Canada. Over a 15-year lifespan, these playgrounds will provide more than 2.6 million children and families with an opportunity to spend quality time together.
The center offers a variety of programs for kids of all ages, but as Operations Director Clarissa Glasco said, "We just need a place for families to go and gather around and play, especially for the younger children."
The playground is a new fun, creative and engaging space designed by the community for the community.