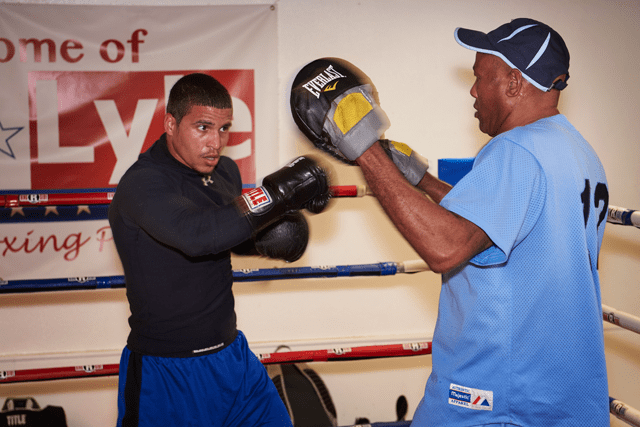 Denver boxing program expands
Red Shield offers boxing for kids, adults, veterans and people with Parkinson's.

The Denver Red Shield Corps Community Center boxing program—the Cox/Lyle Boxing Center—is known for its success in building strength in body, mind and character.
"Our overall goal is to create a gym that is welcoming and encouraging to everyone, regardless of a person's reason for being there," said Red Shield Program Director Jessica Romito, whom Corps Officer Lt. Kelsey Pearce credits as the "driving force" behind the boxing.
The Cox/Lyle Boxing Center
offers four programs: Drop-in/open gym for anyone over age 7, Adult Boxing, Youth Boxing and Parkinson's Boxing.
Romito said people take up boxing for various reasons; many are working on fitness or weight loss goals, while some are professional fighters training for matches.
"We want everyone to feel like they are a part of a family," she said. "Over the last year it has really transformed into that environment and we couldn't be more proud."
The boxing program has grown during the last year, Romita said, after the leadership team considered how to develop this aspect of the Red Shield. They decided to offer structured training programs for adults and children. Classes for kids ages 5-18 meet twice a week for an hour, when they learn gym etiquette, punching techniques, footwork and fitness. Additionally, these classes help instill discipline, respect and social skills.
A few months ago, Romito received an email inquiry from a mother inquiring about the boxing program, thinking it might benefit her young son, Jonathan (Jonny). Jonny's parents were searching for fitness/sports activities for him; he struggled with traditional team sports. During the conversation with Romito, Jonny's mom signed him up, even though they would have to travel over 30 miles round trip to participate twice a week.
Romito heard from the mom again recently, in an email that "brought me to tears," she said. In it, the mom said that Jonny now sees himself as "strong, healthy and capable."
She wrote: "Boxing at the Denver Red Shield has helped Jonny gain confidence in himself and has provided him a new sense of belonging. His fitness capabilities have increased tremendously, too. This opportunity means so much to our family!"
The fitness-based adult classes, which meet twice weekly for 1.5 hours, teach boxing basics while helping increase stamina and endurance.
Recently, Red Shield amateur boxer Kavyka Sosa brought home a 2017 Golden Gloves Championship belt after months of training.
Originally from Hawaii, Sosa, age 20, has been training at the Red Shield for over a year. Romito said he moved to Denver alone, where he attends school and works, along with training four or five days a week for two to three hours.
"He has been such an inspiration to watch come into his own and really represent the Red Shield with dignity, Romito said. "He truly embodies what we want the face of our gym to be. Kavyka talks to anyone and everyone, cheers them on, and always has a smile for people."
Parkinson's Boxing meets twice a week and focuses on balance, stamina, hand-eye coordination and memory. It's a partnership program with the Parkinson's Association of the Rockies, which brought it to the Red Shield since both organizations share the goal of creating a space where everyone is welcome, encouraged and appreciated. Romito said the coaches push these students—who range in age from 45–87—out of their comfort zones.
"The 87-year-old, Merna, is as feisty as they come," Romito said. "People have started the program using walkers and now walk unassisted. It is tremendous to see what a dynamic activity boxing can be for a huge spectrum of people."