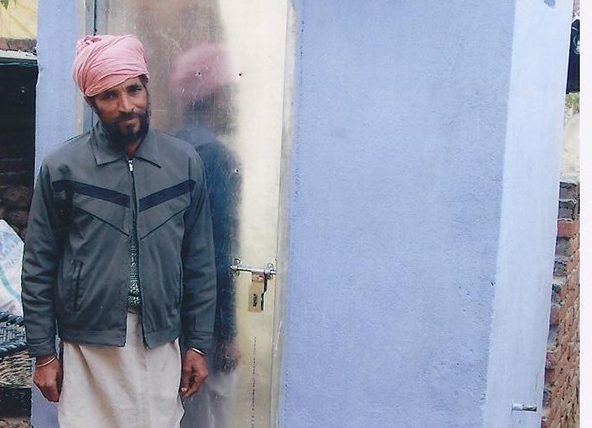 Latrines bring safety and sanitation
The Salvation Army funded 80 new toilets in a small Indian village.
By Jared McKiernan –
India is home to the 10th-largest economy in the world but despite major strides, it's still hampered by issues of basic sanitation and underdevelopment. Chief among them—toilets, or lack thereof.
Set to overtake China as the world's most populous country in 2028, India accounts for 60 percent of the global population lacking access to basic sanitation, according to the United Nations (U.N.). Only a third of its 1.2 billion residents are estimated to have access to a toilet.
The Salvation Army recently helped more than 600 people in India's Northern Territory gain access to basic sanitation through the Manepur Community Latrines and Sanitation Project. A team of officers and residents in Manepur, a remote village in the Gurdaspur Division, constructed 79 toilets, or latrines, in the homes of families living at or below the poverty line and one more in a community hall. The project is the first of its kind in the territory, according to Lt. Col. Joginder Masih, secretary for program in the India Northern Territory, who brought the issue to the attention of territorial headquarters.
The India Northern Territory contacted International Headquarters, which then contacted the USA Western Territory to see if it would be willing to help raise funds for the initiative. Major Dave Harmon, director of World Missions for the USA Western Territory, authorizes the funding for community support projects like the Manepur Community Latrines and Sanitation Project.
"This caught my attention because it's such an interesting idea that we would build toilets for people in a village," Harmon said. "This seemed like something that was a necessity."
The USA Western Territory and the Australia Eastern Territory partnered to fund the majority of the project's $61,900 bill. After the India Northern Territorial Finance Committee convened, a team of six officers from India Northern Territory went to Manepur to examine sanitation conditions.
"It was observed that the community people go out in the open fields and village road side for passing motion," Masih said. "It spreads bad smell around the village and creates a threat for hygienic living causing various diseases."
The Gurdaspur divisional commander and other Salvationists from the India Northern Territory held a series of meetings with Manepur residents and Panchayat (village council) to discuss community concerns. Several villagers shared that it was difficult for women, children and the elderly to dispose of waste due to safety risks and scoldings from their landlords.
"My children and old mother-in-law used to go out in the fields for latrine," said Gogan, a widowed Manepur villager. "Sometimes, my mother-in-law used to slip from the slippery field divider. There had been a risk of her hurting always."
She explained political parties in the village further intensified the problem. "One party forbid the other party to go in their fields for latrine," she said.
After the discussions, several members of the community agreed to give their labor and a small financial contribution to purchase essential materials for the project, including sanitary pipes, which connect to septic tanks.
"Every beneficiary contributed their portion in the form of unskilled labor," Masih said.
Construction of the 80 toilets lasted nine months and culminated in a forum on cleanliness and hygienic issues intended to help sustain the project's outcomes.
Of the 2.5 billion who don't have access to proper sanitation, 1.1 billion defecate in the open, according to the U.N. Jan Eliasson, U.N. deputy secretary-general, said in a statement that this is a global crisis that people "don't like to talk about." He said the U.N. is trying to cut in half the number of people without access to clean toilets by 2015 and eliminate by 2025 the practice of open defecation, which can pollute groundwater, contaminate agricultural produce and lead to diseases such as diarrhea, cholera and bilharzia. A report from the Research Institute for Compassionate Economics even linked open defecation to stunted growth in Indian youth.
"We used to face a lot of problems when going out for latrine during rainy seasons," said Rajan, a Manepur villager. "Since the dedication of this toilet project…we have not faced any problem as we now have this facility in our house."
For villager Bheer, the project not only improved living conditions; it offered some peace of mind.
"I am very thankful for having a toilet unit in my house," he said. "My young daughters used to go out for latrines in the fields. I will never forget this goodness."