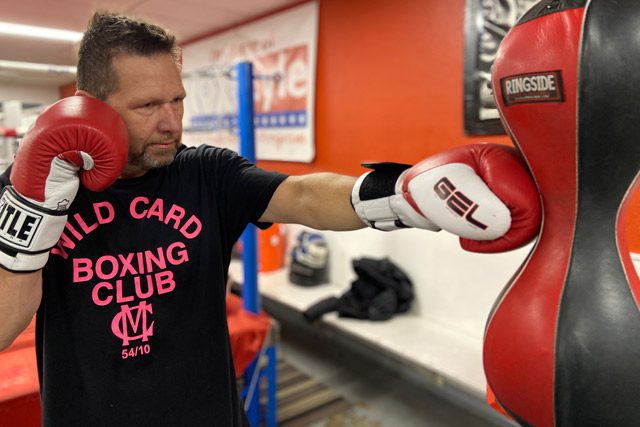 Denver boxing program benefits participants with Parkinson's
Red Shield Boxing Program focuses on strength, balance, agility and boxing fundamentals.
By Vivian Lopez – 
Joe Miller was 49 years old when he was diagnosed with Parkinson's disease in 2011. Instead of questioning, "Why me?" when he heard the news, he thought, "I think I can deal with this."
He did that and more—beating cancer as well. He's been in remission for two years, and now, he's in better shape at age 57 than he was at 37, before Parkinson's. And it's all because of boxing.
For the last five years, Miller has immersed himself in The Salvation Army Denver Red Shield Parkinson's Boxing Program.
"It's been a lifesaver for me," Miller said.
The program is run through a partnership with the Parkinson's Association of the Rockies. It is open to all participants with Parkinson's disease, and consists of four areas of focus: strength, balance, agility and boxing fundamentals.
"It's just a good opportunity for everyone to have the ability to do boxing," said Shidevin Brown, a Parkinson's Boxing Program trainer. "It helps a lot of people. You can see the different progress in everyone."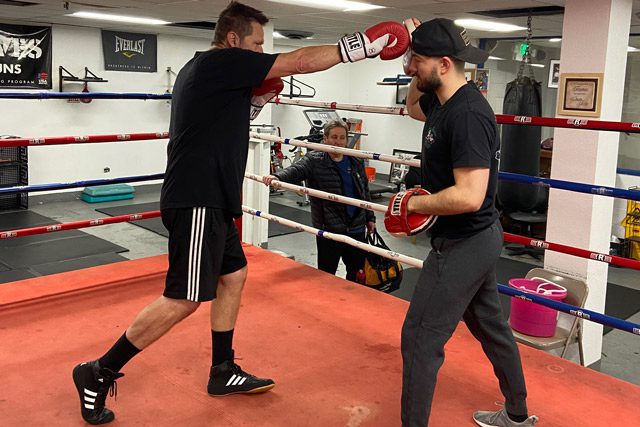 Students from University of Colorado Denver and Regis University help oversee the strength, balance and agility exercises, and volunteer coaches lead the boxing training.
"It's just such a great, well-rounded workout. They have to use a lot of balance, strength and hand-eye coordination. They move their feet a lot," said Jimmy Weltzheimer, Parkinson's Boxing Program assistant coach. "Doing that over a certain amount of time definitely can help [the participants] build that muscle memory and build a lot of skills that they can use in their day-to-day lives."
Denver Red Shield Corps Officer Lieutenant Mandy Hall is happy to have the program at the center.
"I love this program," Hall said. "It's just really exciting to see people who are at various stages of Parkinson's being able to box. They tailor the program to wherever they're at, and whatever their physical abilities are."
Miller learned of the program through an announcement at a Parkinson's support group he attended. A long-time boxing fan, he decided to try the sport for himself. 
"I was hooked the first time I did it," Miller said. "I went out and got my own gloves. I was all in."
Learning boxing combinations is one of Miller's favorite training activities.
"With Parkinson's, it's not just physical. It's also cognitive, so numbers and sequences are very difficult for us," he said. "With boxing, the trainers are calling out different numbers. Each number means a different type of punch. When it really starts to get fun is as you learn the different numbers, and start throwing combinations."
Even though getting started with the sport was challenging and exhausting, he loved it and stuck with it.
"As I kept doing it, I got stronger and stronger. And I was faster and hit harder," Miller said. "That's a great feeling."
When he received the news that he had Non-Hodgkin's Lymphoma and underwent chemotherapy, it was the strength he gained through boxing that helped him overcome it.
"If I had not been as fit as I was, I don't believe I would have tolerated…the chemo pretty well," Miller said. "It was a life experience to be dealing with the two diseases at the same time."
He was out of the boxing gym for six months as he underwent chemotherapy. But once he returned, he bounced back and got back into shape.
"It took me a while to get back to where I am now," Miller said. "I realized how hard I had worked previously."
He even takes additional private lessons at the Red Shield now because he loves the sport so much.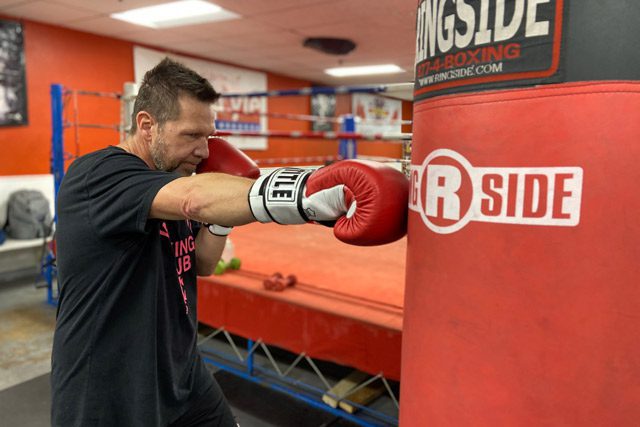 "It's very inspirational," Weltzheimer said. "He inspired not only me, but a lot of the other participants in the program to keep…moving forward."
Now, nearly 10 years after his Parkinson's diagnosis, Miller said his disease has progressed slowly.
"If you see me, you might not know there's anything wrong," he said. "I owe all of that to the exercise regime I've been doing for the past five years, including the boxing. My life has been so rich in this period of time."
He's also made friends with other boxers in the program.
"Boxers respect other boxers who go into the gym to work hard," Miller said. "As much as the boxing itself is a blast, it's really about the friends and the camaraderie with other people with Parkinson's going through the same thing. We get it."
Weltzheimer said Miller's story is one of many success stories of participants in the Parkinson's Boxing Program.
"Everyone has been showing a lot of improvement," Weltzheimer said. "I see when they leave and they're feeling better, and the progress they've made. I love it. It's very fulfilling."