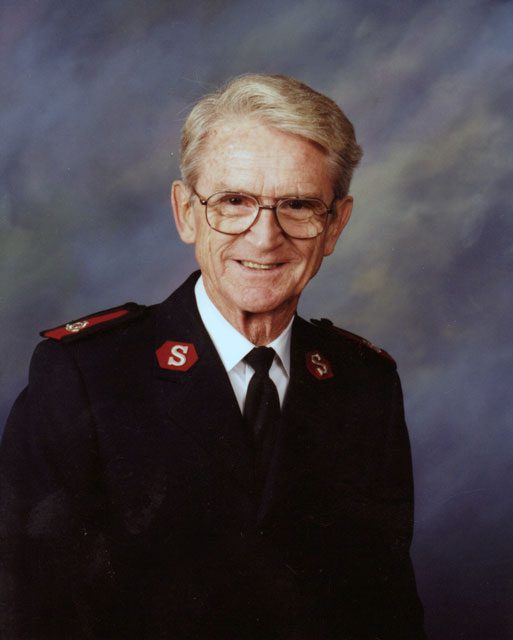 Major Chester Danielson
Major Chester "Chet" Deroy Danielson, 83, was promoted to Glory April 14 surrounded by family in Fresno, Calif.
Born in Miles City, Mont., on Feb. 25, 1931, Danielson was raised by Salvationist parents and had two siblings. At age 6, Danielson moved with his family to Long Beach, Calif., where his parents ran a shelter for women and children. He played cornet at an early age in the Long Beach Citadel Band.
While at a Camp Mt. Crags music camp in Southern California at age 11, Danielson met Victoria "Vicki" Dawn Nottle. The two eventually married on Feb. 27, 1953.
Danielson worked for Western Union before joining the U.S. Air Force to see the world. After basic training, he was sent all the way to Riverside, Calif., for the rest of his service. From 1950 to 1953 he trained as a gunner on a B29 during the Korea Conflict, but never saw active duty. It was during this time that he fully committed himself to Christ, even nicknamed "Deacon" by his peers.
Danielson entered The Salvation Army School for Officer Training in 1955, and was commissioned as a lieutenant in 1956 (Vicki was commissioned in 1951). Together, they served as Salvation Army officers in appointments in Dalles and Medford, Ore.; Honolulu and Kauluwela, Hawaii; Greeley, Colo.; Chula Vista, Ontario, Fresno, and San Fernando, Calif.; Phoenix, Ariz.; and El Paso, Texas. Fluent in Spanish, the Danielsons were then appointed at territorial headquarters in Mexico City, Mexico, and as divisional leaders in Guatemala.
Danielson earned a bachelor's degree in psychology from Pasadena College in 1965.
The pair retired in 1996 from appointments at the College for Officer Training and moved to Clovis, Calif. For the past 18 years, Danielson served as chaplain at the Fresno Adult Rehabilitation Center. He took part in missions teams, taught dozens of young people to play brass instruments and played in the Fresno Corps band.
Danielson is survived by his wife, Vicki; children David (Regina), Dawn (Wes) Trueblood, Colonel Doug (Veronica), Dennis, and Doreen; 10 grandchildren and 16 great-grandchildren.
A celebration of life service was held April 18 at the Fresno Citadel Corps. Lt. Colonel Stephen Smith, Golden State divisional commander, officiated and Captain Dwaine Breazeale, corps officer, gave the message. In lieu of flowers, the family requests that memorials be made to The Salvation Army Fresno Citadel Corps Band Fund (1914 Fulton St., Fresno, CA 93721).