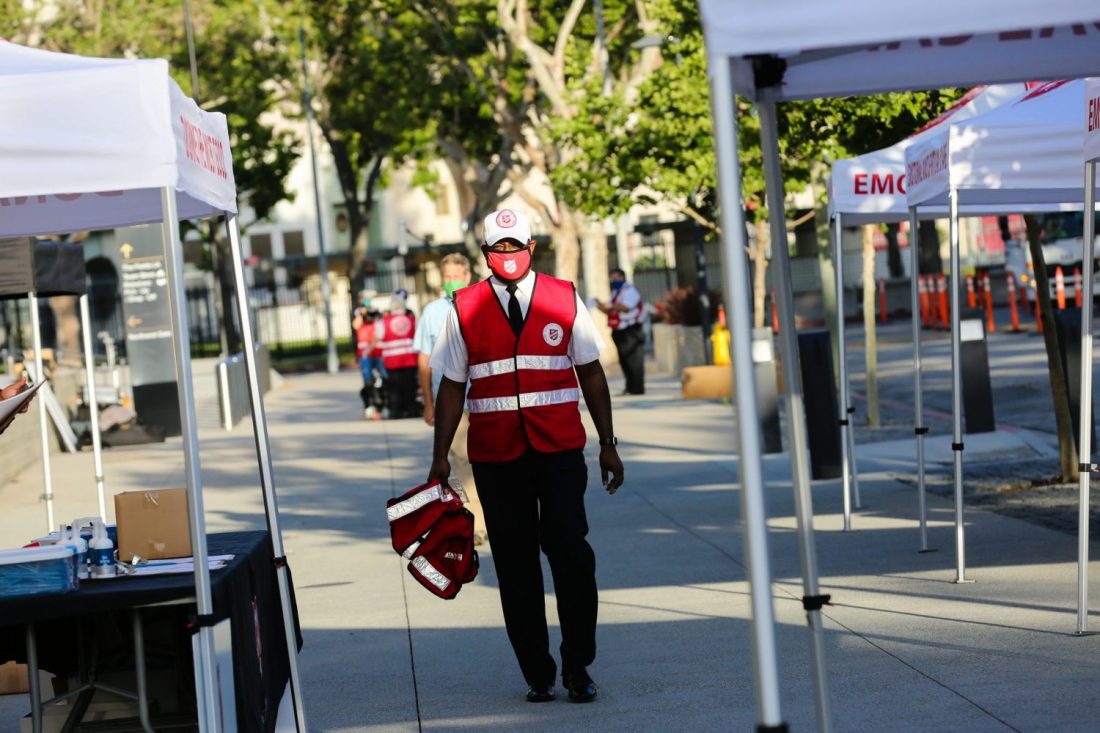 COVID-19 Salvation Army command updates: May 18
Western Territorial Commander Commissioner Kenneth G. Hodder held the 26th teleconference meeting regarding The Salvation Army's response to COVID-19 May 18 with members of the Territorial Executive Council, divisional leaders and key staff, who joined in via Zoom from throughout the West. 
With no announcements from Hodder and no questions at the forum, today's meeting consisted of updates from the Alaska, California South, Cascade, Del Oro, Golden State, Hawaii and Pacific Islands divisions.
In Alaska, Divisional Commander Major John Brackenbury reported most corps were able to work within state mandates to have live worship services May 17, and those that didn't had online streaming. Additionally, the division has developed plans to open up its thrift stores this week with limited hours.
On May 15, the Alaska Division held its food drive in partnership with the Church of Jesus Christ of Latter Day Saints (LDS). "It went so well that we are thinking about doing something like this in the fall," Brackenbury said. 
The Klawock Corps was asked by the state to provide food boxes for a small fishing village. The Alaska Department of Education is working to determine potential gaps the Army can assist in filling. The state extended the duration of mandatory quarantine for those arriving from out of state, which will impact the summer season that usually supports the state's economy. Brackenbury said. Compared to May 2019 when 5,000 people filed for unemployment across the state, this May saw 70,000 people do so. 
When Hodder heard about the division's plans for reopening thrift stores, he invited Adult Rehabilitation Centers Commander Major Henry Graciani to share about the command's recent thrift store reopenings in Phoenix, Arizona.
"We had excellent turnout," Graciani said about the three Phoenix stores. Donations continue to be dropped off, and the command plans to reopen some stores in California this week.
In the California South Division, Divisional Commander Lt. Colonel John Chamness spoke of the high turnout for the foodbox distribution event the Army held in partnership with the LDS at the Los Angeles Football Club's Banc of California Stadium May 14. Chamness said the team learned a lot and they are gearing up for a second food distribution event at Dodger Stadium May 28. 
Both John and Lani Chamness visited six corps in the division this week. They said feedback from officers has been that "while this has been a very difficult six to eight weeks…they are also very appreciative that we took the stance of going into the EDS mode." 
On May 17, the Pasadena Tabernacle Corps virtually enrolled two junior soldiers. Chamness also commended the ARC for its efforts at the division's camps. Divisional Secretary for Program Captain Ashley Koebel finished a reentry plan for all corps and programs, a 40-page document now available on the territorial intranet. Divisional Music Director Kevin Larsson is putting together an online musical entitled "I Am," that is currently holding auditions. The Divisional Youth Secretaries continue to produce online Sunday school and this week they had a DYS dance-off with the Kims from the Golden State Division taking the prize.
Cascade Divisional Commander Major Nancy Dihle said the division completed its LDS food distribution last week in conjunction with its Operation Share Hope efforts, feeding 1,900 people in three days. Because of the division's visibility as a food distributor during COVID-19, it has been invited to participate in the Farmers to Families food box program.
Corps across the division are in various stages of starting up, with the state of Idaho opening first. All corps thrift stores have opened and have had phenomenal openings, Dihle said. The division held Encore online May 17 and had winners presented. "It was a great day of celebrating as a division," Dihle said. 
Del Oro Divisional Commander Major Ivan Wild shared,  "we had a great, great week last week." Many of the division's corps were featured by the media for National Salvation Army Week. In Chico, California, 70 nursing students from Butte College were at risk of not completing clinical study because of COVID-19-related closures until they volunteered with the Army for six weeks. Students performed welfare checks on clients and helped with food distribution. 
The division held a pair of food box distribution events in partnership with the LDS, in Reno, Nevada, and Oakland, California, over the weekend, serving 1,000 families in each location. The division has revived its partnership with the Sacramento Kings and received about $20,000 for food distribution.
Divisional President of Women's Ministries Major Mary Norton delivered the report for the Golden State Division, noting that Divisional Commander Major Darren Norton was on the road, en route to attend longtime Turlock (California) Corps Officer Major Debi Shrum's last advisory board meeting before retirement. 
On May 16, the division held its food distribution event with the LDS at the San Francisco power plant, which allowed six lanes for drive-through. The division received feedback that the event was "very well organized." Volunteers gave out water bottles to those parked in the line that stretched a mile away from the distribution points. In all, 3,000 food boxes were provided.
Norton then shared results of a survey she conducted with officers from the division. In it, she asked where they are in terms of readiness to reopen and stress levels. She was encouraged by the results. The survey was inspired, in part, by the Pathway of Hope's Hope Scale. The division is working on guidelines for reopening, and has made camp available to officers for furlough.
In Hawaii, retail stores on Oahu began to reopen last weekend, Divisional Commander Major Jeff Martin said. In Guam, the thrift store is planning to reopen this week. Throughout the division, corps officers are actively working on their reopening plans for their thrift stores, and the Kroc Center has submitted its reopening report for opening in phases in keeping with the proclamations being made by the governor. Camp Homelani continues to provide work projects and recreation opportunities for ARC men. 
Quarantine in place for those arriving in Hawaii will remain in effect until June 30. The Army is delivering meals to those in isolation with positive COVID-19 results who are being housed in hotels—6,000 meals will be distributed in Oahu starting today. A refrigerated truck was donated to help with delivery.
"As you can see, lots of good things are happening around the territory," Hodder said. "We have every reason to believe we are moving forward in a very positive way."
Hodder read from Psalm 13 before closing in prayer. 
HOW TO HELP:
If you'd like to make a monetary donation, please click here to make a gift.
Text 'GIVE' to 52000 to make a $10 donation to The Salvation Army. This will automatically add a one-time donation to your next mobile phone bill.
For information about volunteering, please visit volunteer.usawest.org.
To learn more about how to support The Salvation Army's relief efforts, please click here.