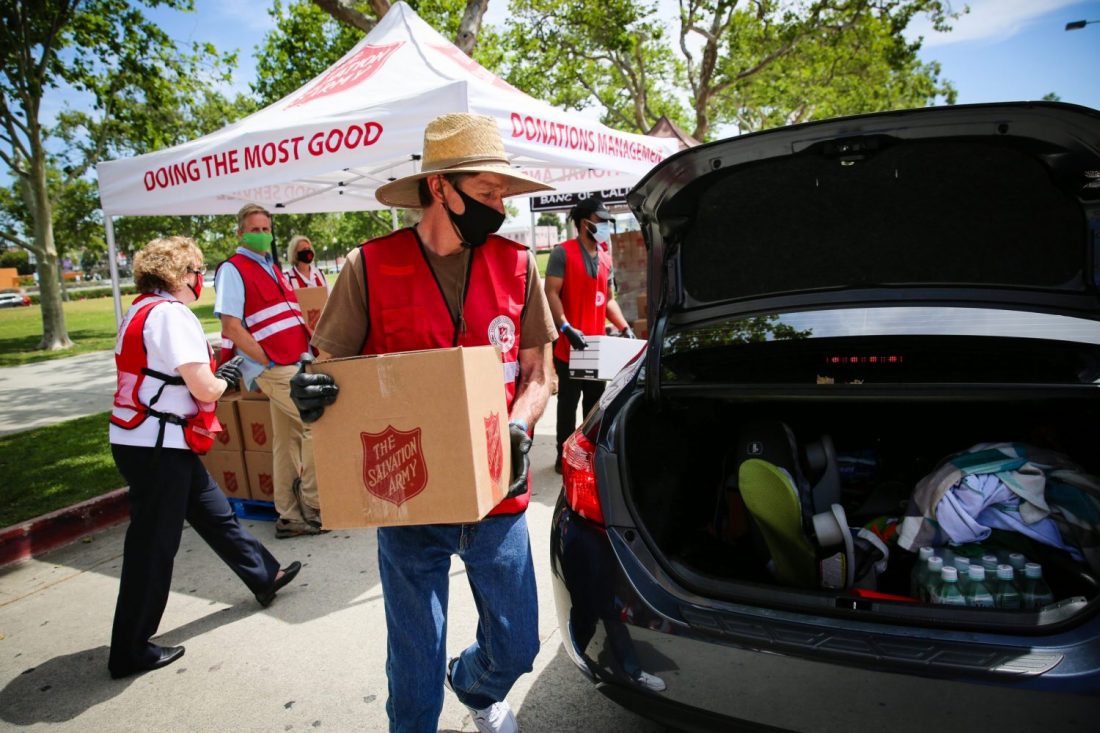 COVID-19 Salvation Army command updates: May 15
Western Territorial Commander Commissioner Kenneth G. Hodder held the 25th teleconference meeting regarding The Salvation Army's response to COVID-19 May 15 with members of the Territorial Executive Council (TEC), divisional leaders and key staff, who joined in via Zoom from throughout the West. 
Today's meeting consisted of updates from Intermountain, Northwest, Southwest, the Adult Rehabilitation Centers (ARC) Command, the College for Officer Training (CFOT) at Crestmont and Silvercrest.
After a roll call of command heads, Hodder shared several announcements. He informed the group that these meetings will conclude May 29, and no meeting will take place Memorial Day; instead, it will occur Tuesday, May 26.
He also announced that TEC, which normally takes place before Commissioning, is canceled. "In the midst of everything that's going on, we did not feel it would be productive to start introducing all kinds of other issues," Hodder said.
Finally, Hodder congratulated the divisions for the success of the drive-through food distributions currently taking place in partnership with The Church of Jesus Christ of Latter-day Saints (LDS).
"Just absolutely fantastic things have been happening this week," he said, noting his experience at an event in California South May 14. "It was a terrific, terrific day and we're just very grateful to all of you."
Intermountain Divisional Commander Major Mike Dickinson showed a brief video of the division's drive-through food distribution, held May 14 at the Aurora Town Center mall, where volunteers gave out 3,000 food boxes. The video showed people expressing thanks. In addition, Dickinson paid tribute to the Army's partners, the LDS and Safeway, with representatives of each having a few moments to speak. 
"The army behind the Army is volunteers, corporate partners and donors, and so we called in some favors," Dickinson said in the video. Hodder commended Dickinson for thanking the Army's partners because that will help build relationships. 
Northwest General Secretary Captain Jonathan Harvey gave the division's report. The division is receiving 30,000 airline meals, which will go to the shelters. The Department of Agriculture provided a $55,000 grant making this purchase possible.
Corps are open for worship in Montana, and the Coeur d'Alene (Idaho) Kroc Center will reopen its center activities May 16. They will be able to accommodate about 200 people at one time.
Three family stores have reopened: Great Falls and Kalispell (both in Montana) and Lewiston, Idaho. Results have been excellent, with sales 70% higher than average. The division hopes to reopen the remaining stores in early June.
Northwest will hold its food distribution events next week; they had challenges getting food. They will hold events in various locations: Monday—two malls in Seattle; Tuesday—Spokane; Wednesday—Tacoma and Yakima; and Friday—Vancouver and Centralia. Centralia is seeing a lot of need due to a chicken production facility that is closed.
They received a donation of 25,000 pounds of potatoes on Tuesday; about a million more pounds are available. This morning they secured 25,000 pounds of onions. Other divisions can reach out to Northwest if they are interested in potatoes and onions. In addition, Wilcox Farms donated a large quantity of eggs.
LDS volunteers prepared 5-pound bags of potatoes on Wednesday; they also packed bags of rice. Two pounds of rice will be in each food box. They are assembling 4,500 food boxes today and tomorrow.
"The Give Hope convoy hits the road on Monday morning, so we're excited," Harvey said.
Hodder commented on the family store sales—the 70% increase—and asked Harvey to speak with ARC Commander Major Henry Graciani's team about those results. Hodder also wondered about the airline meals and if there was a corporate connection that could be developed. He congratulated the division on all the potatoes, onions and eggs: "French fries for everyone," Hodder said.
Southwest Divisional Commander Lt. Colonel Kelly Pontsler spoke from Las Vegas, where the drive-through food distribution is taking place today. They will give out 2,000 boxes from City Hall, representing a last-minute location change managed in just 24 hours thanks to the good partnership they have with the city of North Las Vegas; the mayor and council members are good friends of the Army. About 100 volunteers from the LDS are helping with the distribution. Zappos is also providing resources; they have gift cards in case they're needed.
The Salvation Army in Arizona has been selected in the USDA coronavirus farm assistance program to receive up to 1,500 units of fresh items each week. The Army delivered prepared salads to the medical teams at Phoenix Children's Hospital May 14. No media was allowed on the premises, but they were given entry into the hospital to set up for distribution. Today, a drive-through distribution of 500 food boxes will be held on the divisional headquarters campus. This will be the grand finale to National Salvation Army Week in Phoenix.
For the ARC Command, Graciani was reporting from the Phoenix Greenway Thrift Store where a grand re-opening event is taking place today.  In addition to this store, there are two others (Phoenix Main and Chandler) set to open. Media has been contacted and a good crowd is anticipated.  ARC team members have been divided between the three stores. 
Hodder encouraged Graciani to touch base with Harvey to get any helpful information in the reopening of stores due to their success in Montana and Idaho.
For CFOT, Major Nigel Cross reported that cadets are four weeks away from Commissioning, with three weeks of classes and a week of finals and preparations remaining.  
On Monday the Board of Governance committees met via Zoom and the Executive Committee approved the conferment of the AA of Ministry degree for the Messengers of the Kingdom cadets. The session has also been recommended for commissioning and ordination to the Territorial Commander via ORB (a new step following the new Orders and Regulations).
The Board of Governance are assisting in the development of a new Strategic Plan for the College—hoped to be complete this summer—in five areas: 1) Institutional Planning and Evaluation processes (closing the loop evaluating changes), 2) cadet life (cadet advising), 3) professional development (training for new faculty), 4) curriculum and learning (business, curriculum map, library and classroom resources), and 5) development (Increasing the endowment). 
On Tuesday, Chief Secretary Colonel Douglas Riley gave a lecture to the cadets on reasons officers leave and how to protect themselves to stay the course and keep their covenant.
Today, first-year cadets will have their summer assignment seminar and learn what is needed for them to succeed with their summer courses. This opportunity will be used to remind cadets to minister and encourage their field training officers, who have been on the front lines in response to COVID-19.
A review of all training manuals is complete and corrections and updates have been made. Courses have been mapped out for next year with instructors. This has been accomplished ahead of schedule and will be helpful as a new software program, Blackbaud, will be introduced in the summer and will take time for staff to learn. This application will incorporate grades, courses and record keeping that integrates "Turnitin."  
This Sunday, the school will hold its annual Youth Celebration worship, when achievements of the youth in the Troops programs are recognized. Commissioner Bronwyn Buckingham from International Headquarters provided a personalized video message, encouraging and congratulating the youth.
Silvercrest Executive Director Susan Lawrence reported Silvercrest has experienced another positive COVID-19 case, this time an employee who lives on site. Now in isolation, he reported mild symptoms and that he feels fine. Although the employee has been diligent about using masks/gloves while working, as well as practicing social distancing with residents, he and a fellow employee were in close contact in a vehicle without masks, so there is some concern. All employees at this location are quarantining as they await their test results. Lawrence said this is a reminder that we are not out of the woods and we need to stay diligent with our safety protocols.
Silvercrest residents continue to be the recipients of generosity. The Santa Rosa (California) Corps provides food boxes every Friday to the residents of the Santa Rosa Silvercrest, with the corps' young adults serving as volunteers to assist with the distribution. In addition, Corps Officers Majors Rachel and Rio Ray have made themselves available to the residents, responding to requests for individual needs as well as providing emotional and spiritual support to those who call.
The San Diego (California) Silvercrest partnered with an outside service provider for one dinner a week. Due to the crisis, that meal is now a cold meal distributed by the staff every Wednesday. Last week, as a special treat, the staff distributed doughnuts and juice boxes to everyone as a morning snack—not healthy, but greatly appreciated.
Fresno (California) Silvercrest has a group of residents who sew, called the "Crafty Ladies." So far they've made 200 cloth masks and given one to every resident and staff member. Their goal is to provide at least two cloth masks to every resident and staff member. This has given them a sense of purpose during this crisis.
Positive feedback has been received regarding the Silver Line and care calls. The residents who participate love it and feel like Sarah Bentley, Captain Josh Sneed and others are helping them.
Looking ahead, Lawrence said the plan is to provide residents with education on current technology so they will be better equipped for a crisis. This will also help them with online interactions, including online medical appointments. Hodder commended her: "You're thinking strategically," he said.
A brief time of discussion followed. Riley mentioned Northwest's potatoes; LDS volunteers will bag them. Territorial EDS Director John Berglund said he's working with National Headquarters to secure free trucking so they can be shipped wherever they're needed.
Finally, Hodder shared Isaiah 58:10–11: "If you pour yourself out for the hungry and satisfy the needs of afflicted souls, then your light will rise in darkness, and your night will be like noonday.  And the Lord will guide you continually, and satisfy your soul in parched places, and they will strengthen your bones; and you'll be like a watered garden, like a spring of water, whose waters never fail." 
"Yourself" refers to one's life or soul, Hodder said. The distribution events taking place are a form of pouring oneself out for the hungry and afflicted. Hodder noted that at yesterday's distribution, as staff and volunteers poured themselves out in service to others, the natural consequence was dancing. "I pray that all will be dancing today—if not literally, in their hearts—as you pour yourself out for others." He then closed the meeting in prayer.
HOW TO HELP:
If you'd like to make a monetary donation, please click here to make a gift.
Text 'GIVE' to 52000 to make a $10 donation to The Salvation Army. This will automatically add a one-time donation to your next mobile phone bill.
For information about volunteering, please visit volunteer.usawest.org.
To learn more about how to support The Salvation Army's relief efforts, please click here.