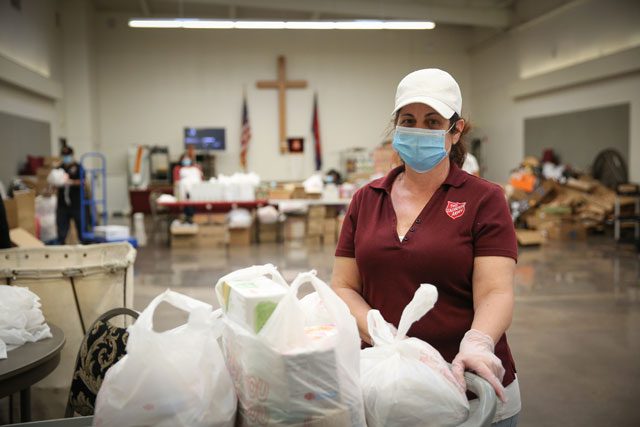 COVID-19 Salvation Army command updates: April 22
Western Territorial Commander Commissioner Kenneth G. Hodder held the 18th teleconference meeting regarding The Salvation Army's response to COVID-19 April 22 with members of the Territorial Executive Council, divisional leaders and key staff, who joined in via Zoom from throughout the West. 
After a roll call of command heads, Hodder lightened the mood by sharing a humorous song parody video inspired by COVID-19,  "Baby, it's COVID outside," set to the tune of the familiar Christmas song.
He then shared several announcements, including that the West has received CARES Act funding details and opportunities from National Headquarters, and that those who want to learn more can stay in touch with Chief Secretary Colonel Douglas Riley, who is in touch with Deloitte. 
After meeting with the West's Adult Rehabilitation Center (ARC) Commander Major Henry Graciani and Director of Retail Julie Dover, Hodder wanted to highlight ShopTheSalvationArmy.com, the online storefront shared by the ARC and divisional thrift stores. 
Hodder then thanked the fundraising teams from around the territory for their hard work, including divisional relations directors, and Territorial Director of Corporate Engagement Maria Todaro and Territorial Executive Director of Development Debbie Rossi. 
"Lots of good news yesterday," Hodder said.
Next week, the command meetings will transition to a longer format that will accommodate questions, comments and idea sharing. The meetings will be held on Monday and Friday.
Four commands reported: the Golden State, Hawaii and Pacific Islands, Intermountain and Northwest divisions.
Golden State Divisional Commander Major Darren Norton began his report by recognizing the hard work of the Salinas (California) Corps. In addition to serving meals to seniors at a mobile home park, the corps is now distributing 500 meals a day at homeless encampments.
"It's a lot of work for little Salinas, and that's all partnered with Camp Redwood Glen," Norton said.
In San Francisco, officers, staff and volunteers continue to serve 665 individuals experiencing homelessness in 40 encampments around the city through what they call Operation Citywide Homeless Relief and Impact Service Teams (CHRIST).
"It's been quite a great experience for us," Norton said. 
This past Monday, San Francisco Mayor London Breed devoted a full minute to talking about this program and what the Army is doing with it in her citywide address. 
Norton also mentioned the division's burgeoning relationship with Costco, through which the Army is picking up food every Monday, Wednesday and Friday. 
Through Zoom, Norton has been able to connect with various groups, including the Fresno (California) Rotary Club. Divisional President of Women's Ministries Major Mary Norton set up a Zoom call for officers and employees with National Holiness Ambassadors Bill and Diane Ury to share words of encouragement, Scripture, a devotion and to pray over the division. 
Hawaiian and Pacific Islands Divisional Commander Major Jeff Martin reported a donation of 40 cows from the Cattlemen's Association after the Army put out a need for protein. The donation will result in 16,000 pounds of protein to distribute. 
Throughout the division, the Army is operating food banks and providing hot meals on Guam and Saipan as well as Hawaii. The Kroc Center is cooking about 16,000 meals a week that they freeze so the meals go out ready to be microwaved when they arrive at homes. Many of the meals go to seniors.
Intermountain Divisional Commander Major Mike Dickinson began his report by reflecting on a recent day in Wyoming, where he was impressed by the Army's efforts there. 
Since March 13, the division has served more than 124,000 prepared meals, provided more than 30,000 nights of lodging in Army shelters, performed more than 12,000 client interviews and assisted more than 51,000 individuals. It has also distributed more than 5,000 Bibles and 21,500 food boxes. 
Dickinson said the incident command team continues to hold daily meetings, and the division is planning to hold a Zoom meeting with officers in the near future. 
Northwest Divisional Commander Lt. Colonel Bill Dickinson shared the division is prepared for its virtual food drive with Channel 13 in Seattle, the network that airs Seahawks games. Dickinson noted the timing of the food drive works well with the NFL Draft-a-Thon. The Seahawks are one of nine teams that have selected The Salvation Army as one of their charities to support.
The division received $100,000 from Pierce County to be split between the response efforts in Tacoma and Puyallup. Dickinson has visited 19 of the division's 28 corps.
Territorial Director of Corporate Engagement Maria Todaro shared news about the Army's growing partnership with AT&T. The Army will be a part of AT&T's First Responder Friday events hosted by Ryan Seacrest that feature a different nonprofit each week and pair the nonprofit with a celebrity performer. The Salvation Army's night is May 1, and the celebrity paired for the performance is John Legend.
"We have a lot to be grateful for today," Hodder said, before reading Galatians 5:22, which details the fruit of the spirit. 
"God is there and he supplies all that we need," Hodder said before thanking the leaders for all of their efforts and reminding them that they are covered in prayer by those at Territorial Headquarters. 
HOW TO HELP:
If you'd like to make a monetary donation, please

click here to make a gift.

Text 'GIVE' to 52000 to make a $10 donation to The Salvation Army. This will automatically add a one-time donation to your next mobile phone bill.

For information about volunteering, please visit

volunteer.usawest.org

.

To learn more about how to support The Salvation Army's relief efforts,

please click here

.