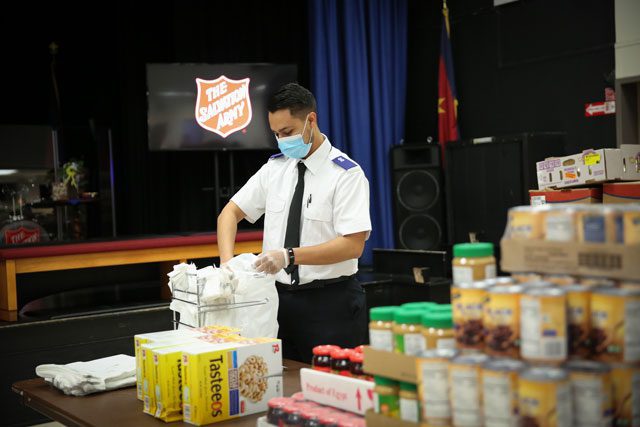 COVID-19 Salvation Army command updates: April 15
Western Territorial Commander Commissioner Kenneth G. Hodder held a teleconference meeting April 15 with members of the Territorial Executive Council, the 15th of such meetings regarding The Salvation Army's response to COVID-19.  
Divisional leaders and key staff joined the meeting from across the West by Zoom, and limited participants met in the Territorial Headquarters boardroom while wearing masks.
Hodder called the meeting to order and noted The Salvation Army branded Zoom background used by California South Divisional Commander Lt. Colonel John Chamness. He thanked the Multimedia Department for creating the backgrounds, now available on the Red Shield Toolkit, for the increased Zoom meetings happening across the territory. 
After a roll call of the command leaders, Hodder shared news of Caring Magazine's acceptance as a Google Publisher, a first for The Salvation Army globally. This means Google now considers Caring a news source and will display its content in the preview upon a user's search.  
He also thanked the Business Section for securing an agreement with Amazon for greater access to supplies, including items that would not generally be available.
Leaders from the Golden State, Hawaiian and Pacific Islands, Intermountain and Northwest divisions then presented three-minute reports on the latest efforts. 
Golden State Divisional Commander Major Darren Norton noted the variety and creativity of the division's officers doing worship services at home, in their backyards, some pre-recorded, some streaming live, and some getting the congregation involved in aspects of the service from their own homes. 
"It gives us a lot of hope for the future in having a wider connection," Norton said. "I'm proud of our officers, and it's fun to see."
In its past four weeks of San Francisco's shelter in place order, Norton reported the division has served more than 46,000 meals, 27,000 food boxes, 26,000 nights of lodging, 3,800 hygiene and emergency kits and had 18,000 instances of Emotional and Spiritual Care (ESC).
"This amount of service is skyrocketing from where we were a year ago," he said. "It goes to show the incredible hard work being put in."
Norton also noted that Redwood Glen Camp is providing 5,000 meals a day to three neighboring corps, and could be doing 7,000 meals next week as the county continues to request assistance. "I'm told that's like two weeks of summer camp," he said.
In San Francisco, the Army is providing two meals and two snacks a day to 675 homeless people in 40 locations throughout the city at the request of the request of the city

In Hawaii, Divisional Director of Women's Ministries Major Eloisa Martin said the division's advisory board is meeting weekly to discuss the response, and has redirected funds previously meant for a gala to help with the coronavirus crisis. 
Over the weekend, the Army served some 700 cars—many with multiple families in the car—in a drive-thru food distribution in Honolulu, providing gallons of milk, eggs, potatoes and bread. As a result, a major donor called to see how he can further support the response effort.
"All units and corps are experiencing a huge need in food assistance due to the increasingly high unemployment," she said. 
The Intermountain Division sent a written update to its state governors and each member of the Denver City Council with an update on its month of service. Divisional Commander Major Mike Dickinson said almost every council member responded with appreciation. The template was also provided to corps and units to use with local government officials.
Dickinson noted that over the weekend the division opened—in less than 24 hours—a new shelter in Denver for 250 men. In Billings, Montana, the Army also opened a shelter—the first time Billings has provided sheltering. Officials in Jefferson County, Colorado, asked the Army to manage a hotel shelter, and leaders in Commerce City, Colorado, asked the Army to be its lead agency on rent assistance, starting with a $250,000 contract.  
The division had 26 requests yesterday for ESC through its call center, Dickinson said, including seven requests for information about connecting to a Salvation Army corps.
"I'd like to suggest your letter to governors as a best practice," Hodder said. "An occasional update letter to all governors and city council members is a very good idea."
Divisional Commander Lt. Colonel Bill Dicksinson said the Northwest Division is preparing to have a virtual food drive, along with planning for the NFL's 'Draft-A-Thon.' The Seattle Seahawks selected The Salvation Army as its charity of choice. 
Dickinson said a new shelter opens today in Centralia, Washington. Further, a new Spanish-language hotline developed by an advisory board member has had so many calls, they've brought in more staff to man it.  
In closing, Hodder again thanked the command leaders for their work.
"You've undoubtedly gotten to know yourselves a little bit more during this time. You've probably gotten to know the officers and employees you're working with better," he said. "That reminds me of Psalm 139. He read select verses, including 1-3: You have searched me, Lord, and you know me. You know when I sit and when I rise; you perceive my thoughts from afar. You discern my going out and my lying down; you are familiar with all my ways.
"He knows us better than anyone else and will give us just what we need to see this through for his glory," Hodder said before ending the meeting in prayer. 
HOW TO HELP:
If you'd like to make a monetary donation, please

click here to make a gift.

Text 'GIVE' to 52000 to make a $10 donation to The Salvation Army. This will automatically add a one-time donation to your next mobile phone bill.

For information about volunteering, please visit

volunteer.usawest.org

.

To learn more about how to support The Salvation Army's relief efforts,

please click here

.