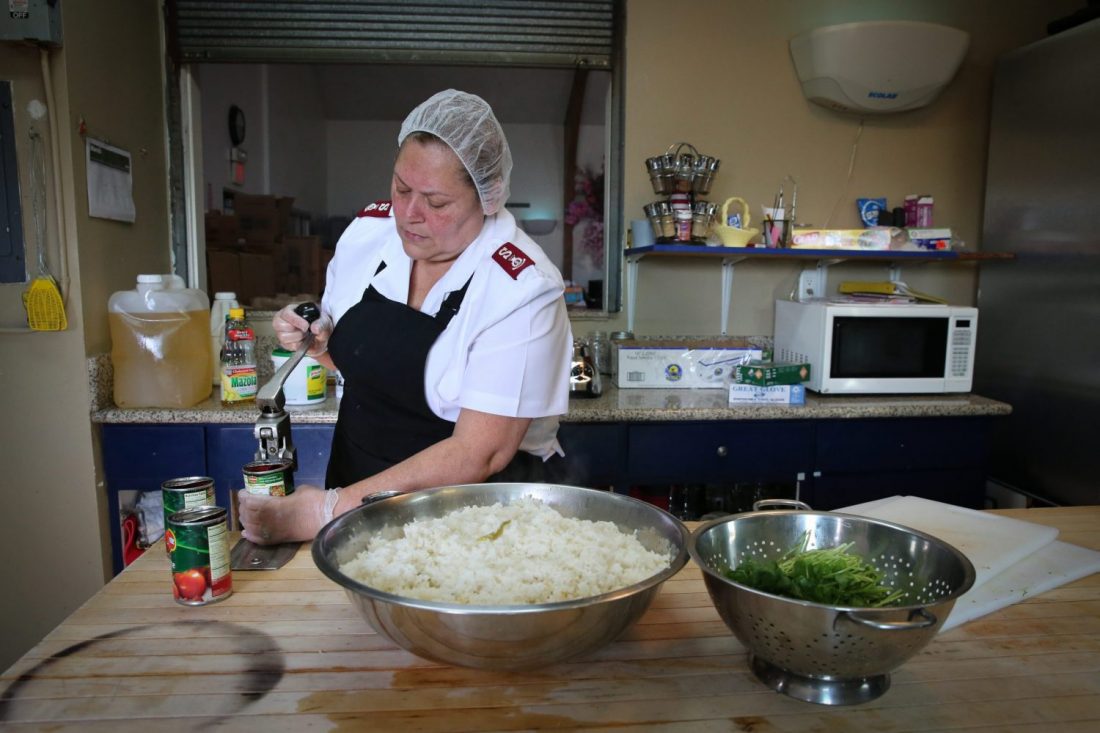 COVID-19 Salvation Army command updates: April 1
Western Territorial Commander Commissioner Kenneth G. Hodder held a teleconference meeting April 1 with members of the Territorial Executive Council, the tenth of such meetings regarding The Salvation Army's response to COVID-19. 
Hodder welcomed attendees at Territorial Headquarters (THQ), including essential territorial staff, and divisional leaders joining via Zoom from around the Western Territory. 
Before hearing updates from four commands, Hodder announced the cancelation of the camping ministry across the West this summer—including divisional camps, the Western Music Institute and the Western Youth Institute. A task force on the subject considered the potential impact of COVID-19 on camps and made the recommendation to territorial leadership. 
"It is with a heavy heart that we close camps as we know it is a vital Army ministry—critical to the children and our outreach in every division; this is where kids find Jesus," said Chief Secretary Colonel Douglas Riley, who chaired the task force. "The decision was reached for the protection and safety of all concerned and we will reopen when we can meet and resume full operations in a safe and secure environment for kids to enjoy the great outdoors."
Hodder also noted, following the March 31 announcement of a Lilly Endowment, Inc., gift of $15 million to The Salvation Army, that the Western Territory would receive $2.5 million. He said $500,000 each will be distributed to support shelter services in Los Angeles County, San Francisco, Seattle, Denver and Portland. 
He reminded command leaders of the day of prayer and fasting happening today, April 1, at THQ, and invited each to join as they are able. Starting at 8:30 a.m., at the conclusion of the briefing, for 15 minutes each hour, there will be a specific focus as follows:
8:30 a.m. Focus on the needs related to the COVID-19 pandemic
9:30 a.m. Confession for both corporate and individual cleansing
10:30 a.m. Urgent needs: Revival, guidance, direction, God's favor
11:30 a.m. Take a prayer walk outside if you can
12:30 p.m. Challenges: Need Wisdom, Resources, Vision, Solutions,
1:30 p.m. Intercession: The Western Territory and its employees, officers, corps, ARC, etc.
2:30 p.m. Intercession: The world and our missionaries
3:30 p.m. Thanksgiving and Praise
"As you will know, times are different, things are not as they have always been, however, our God is the same and his desire is for us to seek him in all things," said Colonel Colleen Riley, Territorial Secretary for Spiritual Life Development, in an email invitation to employees. "God intends to use this time for his benefit. We will lean in and focus on him to hear his voice in this time of most need."
Leaders from the Golden State, Hawaiian and Pacific Islands, Intermountain and Northwest divisions then presented three-minute reports on the latest local efforts. 
Golden State Divisional Commander Major Darren Norton shared a number of partnerships between local officials and The Salvation Army across the division. 
A recent Merced County email blast listed The Salvation Army as one of two sites in the county to receive in-kind donations. In Modesto County, authorities asked the Army to provide 550 meals a day from the Modesto Red Shield Center for those experiencing homelessness as the county houses them in local hotels.  
In Bakersfield, California, the Army is caring for 53 local aged-out foster youth, ages 18–21.  
In Salinas, California, in addition to drive-thru and delivery food boxes for seniors, the corps connected with local mobile home parks to provide meals to seniors, along with residents of a women's transitional shelter. The YMCA also loaned two employees to The Salvation Army to assist in local efforts.
Across the division, individuals staying at overnight shelters are being offered lunch to encourage them to stay. And in partnership with the City of San Francisco, the Army is providing to-go lunches for kids who live in the Tenderloin neighborhood. 
Finally, Norton said the city will soon be housing people experiencing homelessness in the Moscone Center, the largest convention and exhibition complex in San Francisco, which is located just two blocks from divisional headquarters. Divisional representatives are talking with the city now about providing meals to individuals housed there.
In the Hawaiian and Pacific Islands Division, Divisional Commander Major Jeff Martin thanked territorial leadership for help getting a German woman and her baby on a flight back to Germany. "She would've been homeless without that help," Martin said. "We were glad to have a part in that." 
The Hawaii Kroc Center is providing meals for seniors and is the site of a mobile blood bank three times a week. This week, state officials visited the Kroc Center and the division's camp as possible shelter locations.
Martin noted that all corps have seen dramatic increases in requests for food. In Guam and Saipan, the Army is providing meals for nurses who are self-isolating in between shifts at the hospital. 
And the Army in Kauai has been feeding people who moved to local shelters as a result of recent flooding on two sides of the island.
In Denver, Intermountain Divisional Commander Major Mike Dickinson said the March 26 virtual food and supply drive with FOX31 and Channel 2 raised $160,000 and another is scheduled for April 7.
Eighteen families have asked for Emotional and Spiritual Care (ESC) in calls this week to the division's call center. Six recently hired case managers field rent and utility assistance requests, refer callers to local corps for food assistance and take information for those seeking ESC, which 10 retired officers have been recruited to provide by phone.  
The Aurora Corps is working with the local police department's crisis team to get food to those with mental health issues, as identified by the crisis team. And the state of Colorado asked the Army to submit a plan for taking the lead on Personal Protective Equipment donation management. 
In the Northwest Division, Divisional Commander Lt. Colonel Bill Dickinson said the Sinclair Cares fundraiser that launched March 31 has in one day raised $122,000. 
One officer in the division is awaiting COVID-19 test results, and Dickinson said they will be working closely with the local health department if it is positive. 
Dickinson said much of the division's efforts presently revolve around shelters. A second isolation shelter in Tacoma, Washington, is in the works while shelters in Everett, Bremerton, Seattle, Centralia and Olympia are also open or underway. Possible shelters are being explored in Missoula and Helena, Montana. 
The biggest challenge, he said, is in staffing the shelters. They've applied for and successfully been assigned two National Guard workers at Seattle's Pike Street food bank and will be putting in similar requests for additional personnel at the shelters.
Finally, Dickinson noted the online worship stats have gone up three weeks in a row and the division is rescheduling its red kettle kickoff luncheon from May to September. 
Hodder thanked all command heads for their work, before inviting Riley to lead the day's first guided prayer. 
"I know you're putting in long hours, every officer is," Hodder said. "But today, each hour we will stop for prayer."
Riley led a time of open prayer with those present and online—for eradication of the virus, for those on the front lines of health care, those serving with The Salvation Army and funding to care for even more people. 
In closing, she prayed: "When things might be feeling like they're falling apart, God, you never do."
HOW TO HELP:
If you'd like to make a monetary donation, please click here to make a gift.
Text 'GIVE' to 52000 to make a $10 donation to The Salvation Army. This will automatically add a one-time donation to your next mobile phone bill.
For information about volunteering, please visit volunteer.usawest.org.
To learn more about how to support The Salvation Army's relief efforts, please click here.