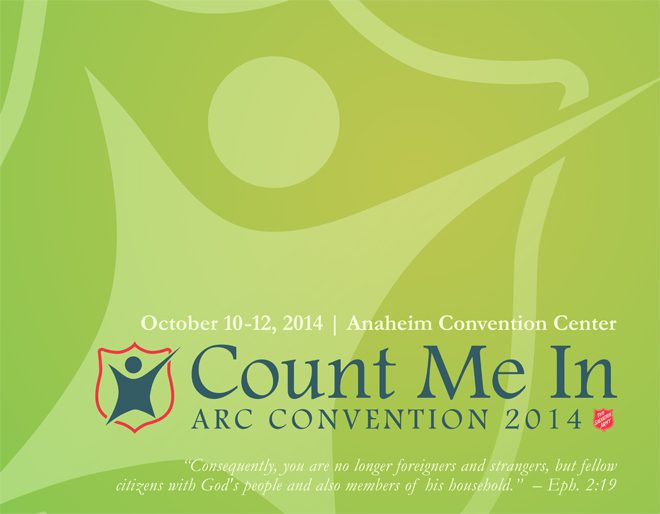 "Count Me In" set for October
Planning committee expects 5,000 attendees
By Jared McKiernan
The Salvation Army Western Territory will host "Count Me In," a three-day congress at the Anaheim Convention Center in Southern California from Oct. 10-12 to advance the ongoing partnership between Adult Rehabilitation Centers (ARC) and corps.
"For many individuals, the ARC is their spiritual home, where they learn to pray, learn to worship," said ARC Commander Major Man-Hee Chang, who initiated the gathering. "But at times, we've neglected to provide good aftercare to these individuals. We don't want them to disappear after they're out of the program."
Roughly 5,000 active beneficiaries and alumni, along with family members, volunteers, corps officers and soldiers, are expected to attend, according to Major Shari Fowler, chairperson of the event's planning committee.
"We really want to see a holistic ministry in The Salvation Army, not an 'us and them,'" Fowler said. "We want to see that integration to where we can see the support on both sides."
The convention will feature an array of speakers, both members and non-members of The Salvation Army. The workshops will be geared toward beneficiaries in recovery as well as how to develop recovery ministry, how to minister to families of beneficiaries and how to advance the integration to make better partnerships.
The event will begin with keynote speaker Dr. Steven Arterburn, author of The Life Recovery Bible and host of the nationally syndicated Christian counseling talk show "New Life Live." The following day will be "Empowering Day," an opportunity for beneficiaries to learn from recovery experts, including Maria Durso. The final day will conclude with an address from Western Territorial Commander Commissioner James Knaggs.
According to Chang, better aftercare for graduates starts with greater corps involvement.
"We want the beneficiaries to know that you can continue your spiritual journey at the corps," Chang said. "They want to help with your recovery there. They want to be a part of it."
Martin Hunt, assistant secretary for program in the territory, said the desire to promote the ARC on a larger scale is a linchpin of the Harvest Initiative.
"This has all come out of the Harvest Initiative," Hunt said. "It's one of the most exciting things I've seen the territory develop. I would hope we see a lot of Salvationists and officers not linked to the ARC ministry present at the convention."
"Count Me In" registration opens in March ($50 adult/$25 child, $150 maximum family cost). Active beneficiaries will attend at no cost. Follow updates here.