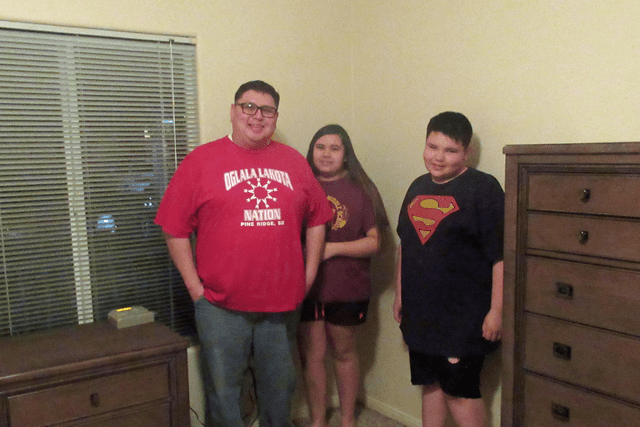 Corps officer furnishes family's apartment
Chandler, Arizona, community member sees kindness in action while on government furlough.
By Scott Johnson –
Jesse Bear Runner points to a set of folding camping chairs near the kitchen in his new apartment. "I have a table and chairs being delivered tomorrow," he said. "It will be nice to eat a meal like we're not sitting around a campfire."
Bear Runner and his two kids have been "camping" inside the apartment for far too long now, sleeping on air mattresses and keeping clothes in bags, but that recently changed.
Captain Jeff Williams, Corps Officer of the Chandler (Arizona) Corps unloaded bed frames, mattresses and solid wood dressers, and set up the furniture with his own hands in the two-bedroom apartment.
"I've never owned furniture this nice," said Bear Runner, who sold many of his possessions to help pay for a move to Arizona.
Several weeks before, Bear Runner could not have imagined this generous gift being bestowed upon him and his family. The day after Christmas, Bear Runner—a single father who had moved to the metro Phoenix area from North Dakota with his two kids—walked into the Bureau of Indian Affairs in Sacaton, Arizona, for his first day of work at his dream job. He had paid his dues and knew he deserved this opportunity. The new job was a significant promotion and came with a nice bump up in pay. He felt excitement, pride and a sense of purpose.
After he went through several orientation basics with his supervisor, he was handed a set of furlough papers. It was the fifth day of what would become the longest government shutdown in U.S. history.
Bear Runner wasn't too concerned at the time. After all, he'd been a federal employee for years, experiencing more than one government shutdown, and they were usually resolved in short order.
But as the weeks went by, with no end to the shutdown in sight, Bear Runner found it increasingly difficult to make ends meet and feared he would have to return to North Dakota and give up his dream of a better life for his family.
The former Marine in Bear Runner kicked in, and he kept telling himself, "I've just got to do." He got some help from a family friend, started a GoFundMe account, even drove for Lyft—that is, when his car wasn't in repossession due to the mounting bills.
None of that was enough, but Bear Runner finally got a piece of good news after visiting AZCEND, a Chandler-based social service organization that provided Bear Runner with assistance to cover the month's rent and utilities. The shutdown was still in effect, however, so there were no paychecks forthcoming.
Williams learned of Bear Runner's plight through a local media story, which included a picture of Bear Runner's son sitting on the floor in a virtually empty room. Williams thought, "I can help this family." Through a contact of his at AZCEND, Williams connected with Bear Runner and provided the family with clothes, linens, bath towels and gift cards, along with the beds, dressers and other home furnishings Williams procured from The Salvation Army Family Thrift Store in Chandler, which had opened just a month earlier, and the Phoenix ARC.
Williams also invited the family to his corps to see the church and be introduced to its youth center and social service offerings, including Chandler's after-school program, which would give Bear Runner the option of a safe place for his kids to go after school while he is still at work.
Bear Runner is now working at his new job, and he said he is extremely thankful for the support of members of the community and how The Salvation Army stepped up during a difficult time.
"It's almost too good to be true," Bear Runner said. "I'm a proud man, so the assistance was a little hard to accept, but I am very grateful. Such generosity makes me feel like this is our home, this is where we belong. I'm never going to forget this, and someday, when I'm able to return the favor, I will."