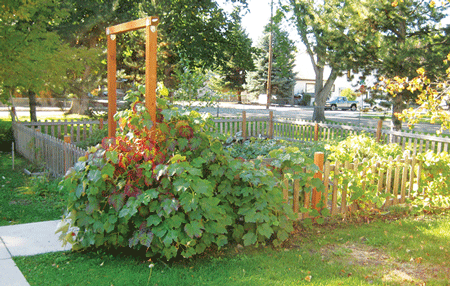 Community supports Boise's SAFE shelter
Volunteers continue providing improvements to the shelter.
By Tracey Schuyler
Square foot by foot—the Boise (Idaho) Salvation Army Female Emergency (SAFE) Center Family Shelter is upgrading its facility with the help of community volunteers and generous businesses and individuals. The facility, originally built in 1964, provides living accommodations to families and single women in transition.
Last spring, landscape nursery Franz Witte donated vegetable plants, which continue to produce tomatoes, berries, squash and grapes. The residents take turns tending the garden, promoting pride in ownership, a sense of belonging and a feeling of accomplishment.
Backyard enhancements include a playhouse for the residents' children. Majestic Landscaping pruned the overgrowth and laid new grass sod. Other groups pulled weeds and put down weed barrier and decorative ground cover.
"When clients returned that evening, they told us how meaningful it was to come home to such a beautiful place after a rough day," Kim Lafferty, SAFE Center supervisor, said.
More recently, St. Luke's and LDS (Latter Day Saints) humanitarian groups painted the interior of the building and added curtains and linens to certain areas. The LDS Humanitarian Service coordinated placement of metal-framed beds and bunks. Two sleeping rooms received hardwood floors, interior decorating, fresh paint, wide crown molding and decorative borders. The bath remodels included new shower walls, floor and wall tiles and toilets.
In fiscal year 2011, 130 adults and children resided at the center, totaling 17,031 overnight stays. Ninety-three percent of the 50 households progressed toward case management goals that included securing or sustaining employment, reducing bills and obtaining child care and transportation.