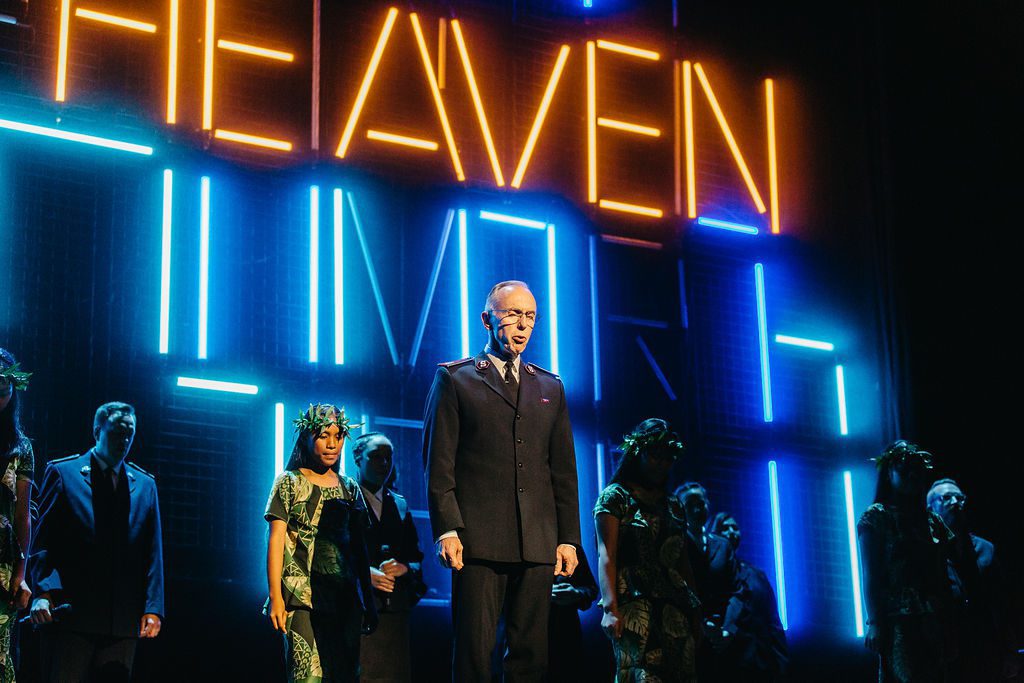 Commissioning Worship Experience: Here as it is in Heaven
By Hillary Jackson –
Here As it is in Heaven, a worship night journeying through the Lord's Prayer during Commissioning weekend, filled the Cerritos Performing Arts Center in Cerritos, California June 8 with the holy spirit through singing, prayer, dance, testimony and even texting.
The evening opened in darkness, with vocalists singing "Hallowed Be Thy Name." As the group sang, dancers joined in, and the word "Heaven" became illuminated in the background. The group was joined by additional dancers clad in palm-tree printed outfits dancing the hula.
The evening's host, Territorial Commander Commissioner Kenneth G. Hodder set the tone for the worship night by inviting the audience to join him in the Lord's Prayer.
"It is our prayer that this night you will sense the power of the Holy Spirit, that you will reflect on what God has done for you, and that you will be moved to greater obedience and worship of him," Hodder said.
Following the prayer, worship group Surround the City led the congregation in "Holy Spirit You Are Welcome Here." The group would later lead songs, including "To Be Like Jesus," "Good, Good Father," "A Mighty Fortress," "I Then Shall Live" and "One Day."
Throughout the evening, lights on the stage's backdrop illuminated a city skyline and alternated words of emphasis. An interpreter signed American Sign Language (ASL) to make the evening more accessible.
A short video featuring words associated with God flashed an array of adjectives across the screen. Hodder asked the audience to reflect on the words and raise their hand when they saw the name they most associate with God.
Hands slowly raised throughout the room as descriptors like "protection," "healer," and "eternal redeemer," filled the screen. Hodder himself raised his hand for several words, including "spirit," "king of kings," and "holy." The video concluded with all of the names of God coming together to form a design of the word "God."
In between singing and testimonies, short drama presentations by Mathijs Arens and David Fenrich illustrated common ways Christians lose focus during prayer and miss what God has to say. Each ended with the actor portraying God saying, "There is so much more I wanted to tell you."
California South Divisional Secretary for Business Captain Jay Koebel sang his testimony from an onstage piano bench, noting the importance of Colonel Man-Hee Chang who told him to "get over himself" when he was a beneficiary at the Perris (California) Adult Rehabilitation Center 13 years ago, and in doing so "showed him a little bit of heaven."
"I'm amazed at everything that God has done in my life," Koebel said. "How he's taken all these crazy pieces of a puzzle, and put them together into this masterpiece that I never would have seen."
Hodder announced Chang was home from his appointment in Korea, and Chang was greeted with applause.
"The relationship between Colonel Chang and Captain Koebel is not unusual. It is something that comes with the Christian life," Hodder said. "We all have people in our lives who have had an impact upon us who have done in some way the work of God. They've allowed heaven to become a part of our own experience. They've mentored us. They've taught us. They've been with us in times of joy or times of disappointment. They have been Christ to us."
Hodder then did something he admitted he's never done before: He asked the audience to pull out their cellphones. At that time, he prompted them to text others who made a difference in their life. Later he'd ask the group to text others to forgive them.
The evening was filled with stories of positive change told through video, like that of Duane Mackey who experienced homelessness in Los Angeles for more than 38 years until he found his way to The Salvation Army's Bell Shelter in Bell, California. Duane's life was transformed by God, and he now has a permanent home of his own.
Mackey was present for the worship event, and was called on stage by Hodder for a short Q&A, during which he replicated the squeal of joy he experienced while showing off his pantry to the Army's Share Change video team. Mackey shared of how he learned to forgive, and even gave a charge to the cadets and was met by a standing ovation.
"I would like for them to know the opportunity and the blessings that they are about to embark on. You've made decisions in your life to follow Jesus through The Salvation Army. You're going to meet people like me, and I'm going to drive you crazy," Mackey said, and the room erupted in laughter. "If you pour 10 percent of the love that Christ has put in your heart, you'll change their lives like those officers changed mine."
Mackey's testimony was followed by another word video, this time featuring words of things to seek forgiveness for like "unfaithfulness," "disobedience," "jealousy" and "rage." Similar to the first word video, this video ended with a single word: forgiveness.
Hodder then gave a message centered on the Lord's deliverance from evil, saying "the world will swallow you up" if you try to take a worldly view in life.
"The Gospel proclaims that our darkest moments will not define our destiny," Hodder said. "This gospel proclaims our God is a consuming fire."
He then held an altar call; inviting people to come to the mercy seats to "let the love of Christ swallow [them] up."
Following the altar call, the Messengers of Compassion used ASL to sign the lyrics of the song "Cornerstone" while wearing white gloves to accentuate the movements.
The final drama presentation resulted in the Christian asking the Lord, "Can I just worship you?" and the actor playing God responding, "I'd love that."
As a benediction, Territory Music Education Specialist Matt Woods sang the Lord's Prayer as a underneath an illuminated cross.