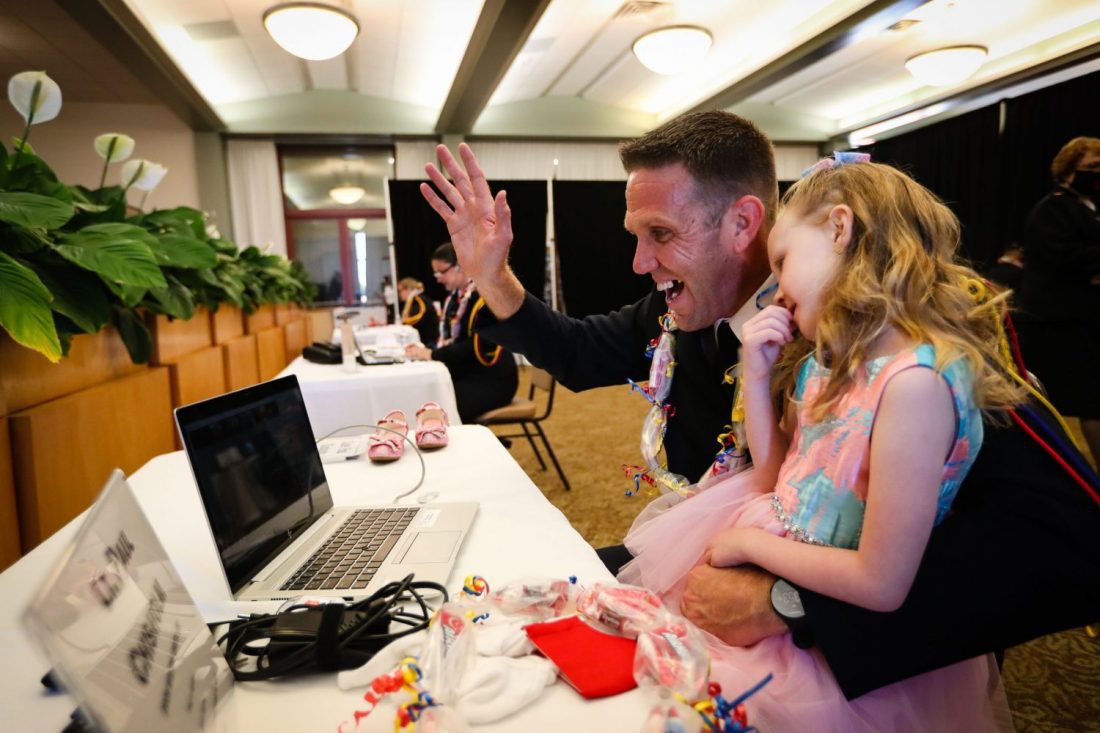 Commissioning: New lieutenants receive congratulations on Zoom
Zoom events take place of lobby time in 2020
After the newly commissioned Messengers of the Kingdom received their first appointments as Salvation Army officers in the territory's virtual Commissioning, Ordination and Appointment Service, the five divisions receiving new lieutenants held Zoom events with them, their loved ones and future corps members as a 2020 answer to the typical lobby fellowship of the traditional celebration.
Each lieutenant family had its own Zoom conference room where Salvationists and friends logged in to wish them well on the next steps of their journey. In Lieutenant Paul Chisholm's room, he shared his daughter Chloe's one request for their future home—snow. Intermountain Divisional Commanders Majors Cindy and Mike Dickinson promised lots of snow for Chloe in Fountain Valley, Colorado, where Chisholm was appointed as Fountain Valley Corps Officer.
In Lieutenant Henry Oliveira's room, friends and family talked over each other to excitedly share congratulatory remarks like "I'm cheering you on" and "We're so proud of you." Adult Rehabilitation Center Command leaders Majors Dina and Henry Graciani also dropped in to share how proud they were of Oliveria, who came out of the Canoga Park ARC. 
"God is so good," said Oliveria, who was appointed as Sacramento Citadel (California) Assistant Corps Officer. 
Lieutenant Ashley Cunningham, appointed to Suisun City (California) Kroc Center as Assistant Corps Officer, was welcomed by her new Corps Officers Majors Randall and Tracie Hartt. 
"You're going to love it. It's a great place to be," Tracie Hartt said, noting that she's already sent Cunningham a Facebook friend request. 
Santa Clarita Valley Corps Officer Lieutenant Melissa Jones joined the call, telling both Cunningham and the Hartts that she was excited for them to serve together. 
Excitement was brewing in Lieutenant Amy Lewis's room after it was announced she would be Corps Officer at the Hanapepe (Hawaii) Corps. Originally from the Concord (California) Corps in the Del Oro Division, Lewis received congratulations from Del Oro Divisional Commanders Majors Ivan and Jennifer Wild, who dropped in to say how proud they are and that they know she'll do a great job.
Lewis joked she needed to change everything she'd packed. "I'll just need flip flops, muumuus and fatigues, no nylons, right?"