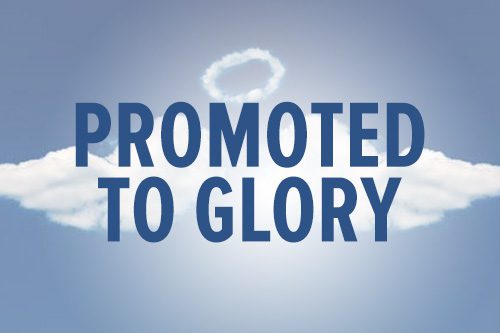 Commissioner Ruth Osborne
October 23, 1921–March 2, 2017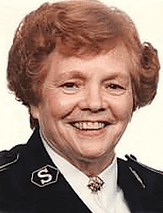 Commissioner Ruth Osborne, O.F., was promoted to Glory March 2 from Suncoast Hospice in Clearwater, Florida.
Ruth Campbell was born Oct. 23, 1921, in Connellsville, Pennsylvania., to Major John and Mrs. Anna Campbell. Because her parents were Salvation Army officers, she moved several times during childhood. She completed high school in Baltimore, Maryland, and received an associate degree from the University of Baltimore.
She worked in the International Division of the Federal Communications Department in Washington, D.C., and attended George Washington University. During this time she met her future husband, James Osborne. The couple wed in 1945, eventually sharing more than 71 years of marriage.
Both Ruth and James felt the call to Salvation Army officership, so when James was released from the U.S. Army, they entered Evangeline Booth College for Officer Training in Atlanta. They were commissioned in 1947 with the Warriors Session, beginning what would be more than 46 years of active officership.
The Osbornes served in Southern Territory field and administrative appointments from 1947–1971. During this time, Ruth planned and produced important parts of the Southern Territorial Women's Congress in Atlanta.
They served as divisional leaders for the Maryland and Southern West Virginia Division (1971–72), the National Capital and Virginia Division (1973–78) and the Florida Division (1978–80).
Territorial and national appointments followed: Chief Secretary, USA Western Territory (1980–84); National Chief Secretary (1984–86); USA Southern Territory Commander (1986–89); and USA National Commander (1989–93). Ruth concluded her active service as National President of Women's Ministries.
Ruth was a talented speaker, a creative program planner, a source of innovative ministries and a constant encourager and leader of women. Affectionately know as "Mama O," she had an unquenchable love for people, especially young people.
The Osbornes continued to serve in retirement, accepting several appointments, including in the USA Western Territory Cascade Division as pro-tem divisional leaders from September 2007–February 2008.
In 2014, General André Cox recognized the Osbornes for their outstanding service, admitting them to the Order of the Founder, the highest honor given to Salvationists.
Ruth is survived by her husband, James; daughter, Connie (Don) Canning; foster daughter, Minnie Orsburn; grandson, Philip (Elaine) Canning; granddaughter, Stephanie (Victor) Rutledge; and six great-grandchildren: Abigail and Jackson Canning; and Caroline, Taylor, Allison and Levi Rutledge.
A celebration of life service took place March 7 at The Salvation Army Clearwater Corps.
You can view the memorial service here.