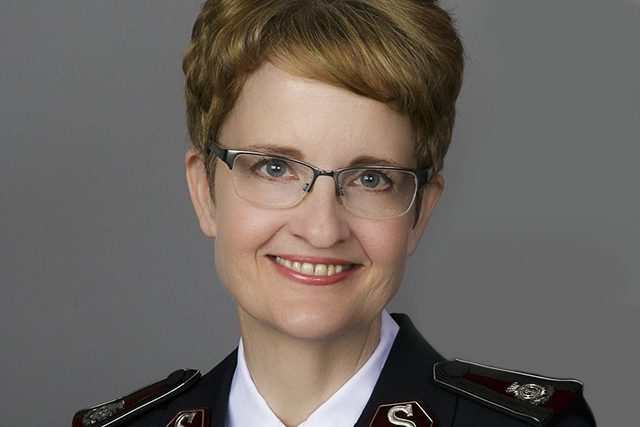 Commissioner Jolene K. Hodder is now 'Senior Commissioner'
By Karen Gleason –
Effective April 1, Western Territorial President of Women's Ministries Commissioner Jolene K. Hodder holds the title "Senior Commissioner," as announced by General Brian Peddle.
The new Senior Commissioner got down to basics.
"If a High Council is needed, and the Chief of the Staff is unable to fulfill his constitutional role for any reason, I must convene a High Council, Hodder said.""
While the Senior Commissioner's official responsibility is straightforward, Hodder noted a deeper meaning to this appointment.
"The biggest significance for me is that The Salvation Army continues to give women opportunities that most other churches do not give," she said.
According to the Salvation Army Act 1980, "'Senior Commissioner' means the Commissioner, other than the Chief of the Staff, who has held the rank of Commissioner longest or, if by that test there are Commissioners of equal seniority, that one of them who has served longest as an officer."
To avoid confusion regarding seniority, The Salvation Army began the practice of not promoting two people to commissioner on the same day. However, for many years, when married couples were promoted, the man would be promoted first, followed by the woman the next day.
That practice changed in 2009, when then General Shaw Clifton acknowledged that the man should not always be promoted first. Instead, he proposed an impartial, equitable means of determining which person would receive the promotion first—the alphabetical order of the individual's Christian, or first, name. The rule changed in light of this significant decision, reflecting The Salvation Army's long-time commitment to gender equity.
The Hodders were one of the first couples to become Commissioners under the new rule, as they received their promotion in 2009.
"This notion of gender equity is so important," Territorial Commander Commissioner Kenneth G. Hodder said. "While The Salvation Army still has areas in which it can improve, we should not overlook the wonderful steps that have already been taken."