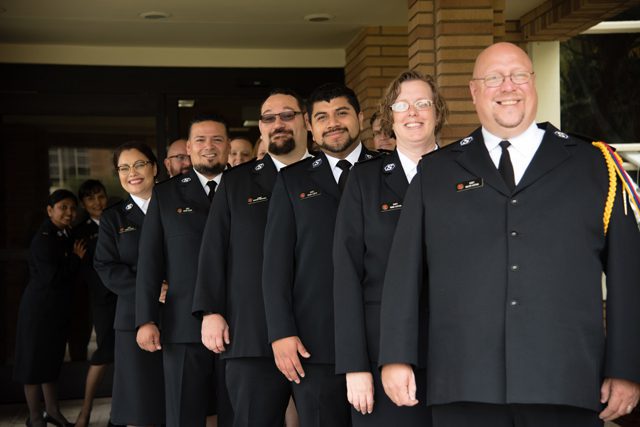 Heralds of Grace receive degrees
Commencement ceremony begins commissioning weekend in the West. 
In culmination of two years of academic effort at the College for Officer Training (CFOT) at Crestmont, Salvationists and friends gathered on the college's lawn to witness the commencement and presentation of degrees to the 40 cadets of the Heralds of Grace session.
"Welcome to our home—the ministry that goes on on these sacred grounds will last for an eternity," said Major Tim Foley, CFOT principal, in welcoming attendees. "This is not an easy task…it is not for the one who has no spirit of perseverance. Our job is to get the cadets to the starting line; that's when they get those wonderful appointments on Sunday."
The session sang its song, "Heralds of Grace" by John and Janet Martin, following a prayer by Captain Annalise Francis, CFOT curriculum officer.
"The officer is a leader of people and he or she must be the most zealous and dedicated soldier in the corps," said William Flinn, chair of the Crestmont Council, recounting words from his grandfather's copy of the officers' Orders and Regulations. "Some things change, but some things—never. Someone is waiting out there for the message of Christ's love that only you can deliver."
Major Cindy Foley, CFOT director of campus services, led attendees in singing "Praise, my soul," before Chief Secretary Colonel Dave Hudson read Scripture, and Lt. Colonel Doug O'Brien, personnel secretary, gave the commencement address.
"We're all different. We're people made of different experiences, priorities and values," O'Brien said, and listed examples of the differences in his own life's memories and highlights compared to that of his wife's, Lt. Colonel Diane O'Brien, who grew up in England. "Differences are a reality for Diane and me, but our differences don't drag us down. Our common memories—our shared experiences—bind us together."
He recognized the differences among the session mates—that some are "Army barmy" and some or not, or that some think the uniform is a barrier to ministry and some are certain that it opens doors to ministry.
"Because we're all so different, there will be times when we disagree, when we have different priorities, times when we imagine that someone just doesn't care," he said. "During those times, remember who you are."
Further, O'Brien said we would do best to remember the things that bind us together in the Army, that "Salvationists are like Christian entrepreneurs" and that "Salvationists seize the day."
"The door is wide open to Salvationist who see possibilities, who inspire support, and have the tenacity to see something through to completion," he said.
Territorial Commander Commissioner James Knaggs presented academic degrees and certificates to the cadets, including Cadet Maryellen Walters who then spoke on behalf of her session.
"We've been equipped spiritually, academically and emotionally for the calling that God has placed on our lives," Walters said. "We have been prepared to fight evil and injustice wherever and whenever. And we are grateful for the privilege to be discipled on such sacred grounds as this."
Major Tim Foley led attendees in singing "To God be the glory" and Major Brian Jones, CFOT director of curriculum, closed in prayer.