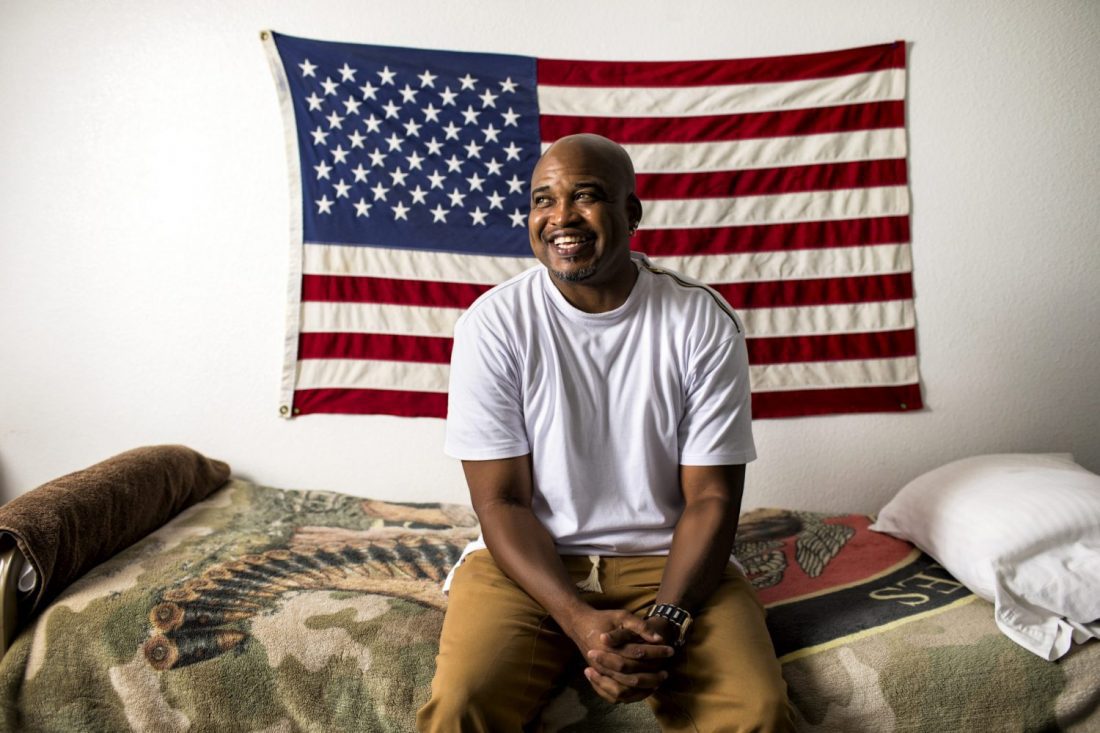 Homeless Colorado veterans will have more beds at Salvation Army
Under the new VA grant agreement, the corps can nearly double its bed capacity for veterans.
The Salvation Army in Colorado Springs, Colorado, recently expanded its partnership with the U.S. Department of Veterans Affairs (VA)—nearly doubling its shelter and housing capacity to serve 43 veterans. 
"The Salvation Army has a long history of supporting our military, and now we can extend it in a practical way," said Captain Doug Hanson, Salvation Army Colorado Springs Corps officer and El Paso County coordinator. "Expanding the numbers…will ensure there's less homeless people on the streets." 
The expansion was funded by the VA Grant and Per Diem (GPD) Program. The Salvation Army in Colorado Springs and Denver had to apply together as a region for the grant this year. As a result, 77 beds were awarded to The Salvation Army, with 43 for Colorado Springs and the remaining 34 in Denver, which saw a slight bed increase as well. 
Previously, the Colorado Spring Corps' veteran housing capacity was 22 beds in its Service Intensive Transitional Housing (SITH) program, which was open to veteran men, women, and their families. This was established under the previous two-year partnership agreement with the VA in October 2018, under the same grant. SITH clients are housed at a transitional housing apartment complex owned by the Colorado Springs Corps. 
"Really what started this was realizing the veteran population in Colorado Springs and how underserved it was when it came to housing," said Karen Daugherty, Salvation Army Colorado Springs social service director. "So we teamed up with the VA—seeing that there was a grant opportunity—so that way we could serve our vets." 
However, there were no low-barrier or short-term housing opportunities available. So when it came time to apply for the VA GPD grant again, and extra beds were awarded, The Salvation Army in Colorado Springs used it to allot 12 beds at its low-demand shelter and create a 15-bed Bridge short-term housing program for veterans awaiting permanent housing. 
The SITH program option remains with a 16-bed capacity—allowing veterans to have transitional housing as they work to establish their income and savings, secure employment, garner additional service-connected income, and find permanent housing.  
"All of these programs are very individualized, so we work with the vets and get them some self-determination as well. While they do have those outcomes they have to fulfill, really it's up to the veteran on how we get there," Daugherty said. "So it really gives the veteran a voice. We also support them with things like social skills and budgeting skills…things that they may have lost or even not experienced in their lives." 
Daugherty stressed the need for the additional veteran shelter and housing options in Colorado Springs.
"Some of our veterans were really struggling with the sobriety piece that came with our SITH beds, so providing the low-demand [beds] really gave them an opportunity to work whatever program that they are without fear of relapse, or [housing for] some of them were just unable to stop using," she said. "With Bridge beds, it really gave the timetable which some vets struggle with…It really gives them the opportunity to help focus on those final things they need to do before they move into that apartment and also prevents any veteran from being on the streets while they are in that transition." 
Hanson agreed that the expansion was necessary, especially amid the COVID-19 pandemic—and not to mention, the several surrounding military bases in the area. 
"Every community is struggling with increased homelessness. COVID has certainly put a lot of people on unemployment. Now, the CARES Act has come and provided even more services," Hanson said. "But there will be an expiration date…and our program will outlast all of those." 
An additional component of the VA partnership expansion included hiring a case manager veteran liaison. With the new hire, Hanson and Daugherty hope to strengthen The Salvation Army's partnership with the VA in Colorado Springs even further, while building relationships with other agencies serving veterans in the community. 
"We work very well with the VA here in Colorado Springs and Denver. There's different agencies here that we partner up with to provide the best resources possible," Daugherty said. "This person is going to be making most of these contacts and finding new ones in the community that we can really give to our veterans and help give them more of a well-rounded support system. So if they need something that we can't provide or one of our existing partner agents are struggling to fulfill, then we can have this resource somewhere else." 
The liaison will also be responsible for ensuring the beds allocated for veterans are filled across the three veteran shelter and housing programs. 
"We live and die by a referral basis. So all of our veterans come to us via the VA," Hanson said. "Our employee's job will be to help them in the recruitment process to ensure that veterans know they have these services available." 
Both Hanson and Daugherty long to continue expanding The Salvation Army Colorado Springs' partnership to help even more veterans, and for graduates of the veteran programs to find a path to self-sufficiency.  
"Each veteran comes into these programs with their own set of strengths and struggles," Daugherty said. "We want to make sure we harness all of those strengths of the individual and really highlight those as we help them progress through whatever barriers they have that have been keeping them from maintaining stable housing." 
But ultimately, they want to give these veterans hope. 
"We want to make sure, like every community does, that there is never a homeless vet," Hanson said. "Our end game is to get veterans mentally back into investing in themselves. Some of them just lost that hope when on the streets."
---
Do Good: