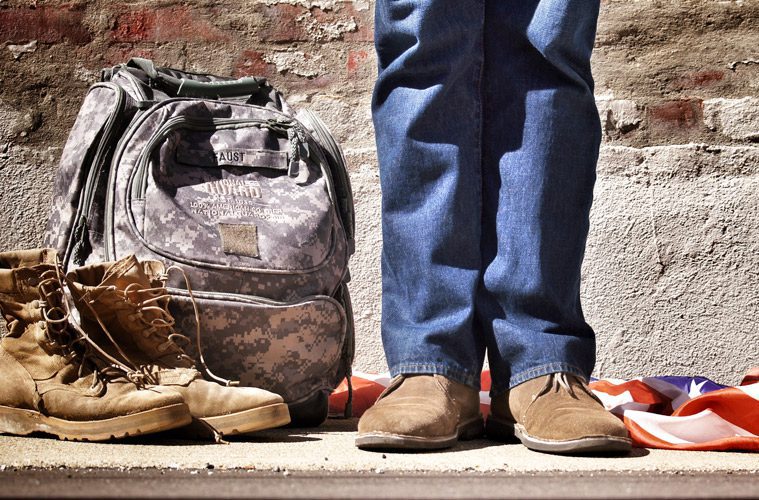 The Salvation Army is helping veterans find purpose at work
Many veterans know finding "the job" is just the beginning. Discovering one's path—or purpose—is a process that can take years, and sometimes, a lifetime, especially after having been successful in combat, and returning home without a clear way forward.  
That's where Charles Smith and the staff at The Salvation Army's The Haven come in. The Haven (which stands for Helping All Veterans with Emergency Needs) serves more than 2,000 Los Angeles-area veterans each year, assisting with everything from housing and mental health services to employment support.
"We give our veterans an opportunity to tell us what they're looking for," said Smith, Veteran Employment Services Program Manager for The Salvation Army California South Division. "It's a symbiotic relationship; it's not just the mentor telling the mentee what to do."
Smith starts the process by guiding clients toward a new way of thinking about their experience.
"They might not think about their military jobs as relevant," he said. "We try to help them pull all their skills out so we can find a good match in the civilian world."
Zachary Gobie was one such vet to walk through The Haven's doors last year. After serving in the U.S. Army and attending college, he'd fallen on hard times. Like many of his colleagues, he spent six months searching for work without a positive outcome.
Smith worked with him to not only secure permanent housing, but a job in his office. "I needed someone who was versatile—who could go from talking to a homeless person to a business person almost like a chameleon," he said. "He's been on the job for six months now."
As for Gobie, he's been able to return the favor more than a few times by serving veterans who are sitting where he sat not too long ago. In his role as Employer Engagement and HVRP Specialist, he helps homeless veterans get hired, and also works with community partners and encourages employers to join their network.
"Being a veteran helps," he said. "We almost have our own language, and being able to be on the same page is really helpful working with them."
Like Smith, he first wants his comrades to understand that on paper, it might not seem like specific abilities from the military are relevant.
"The first thing I try to explain is that in reality, a job is 25 to 30 tasks that you complete in a work day," Gobie added. "I coach them to highlight those skills, such as working on a team, or experience doing reporting and analytics."
A pathway to hope
Finding employment is only half the battle, and according to Sabrina Kiser, Assistant Director of Social Services and Public Policy Coordinator at The Salvation Army National Headquarters, The Salvation Army has a strong history in helping people become financially independent while not being exploited.
"The Salvation Army strongly believes in the dignity of work and helping people get to a place where they no longer need our services, but know that we are available if a crisis arises," she said. "We also recognize that getting a job is only half of being able to financially support themselves. People need access to affordable housing, childcare and transportation."
Kiser said holistic initiatives like Pathway of Hope are crucial to helping people achieve financial stability by helping them focus on goal planning, identifying strengths, addressing barriers and, importantly, creating community connections.
"Most people in our society are not becoming financially self-sufficient without a solid network of support to rely on and bolster them," she added. "That is where people attending a corps can be so important in supporting each other and our program participants in their path to financial stability."
Still, The Salvation Army knows that what some people need is simply a second chance, Kiser said, noting that culinary programs across the U.S. have "consistently given people the chance they need to find their passion and get a job they feel good about."
In particular, she pointed to programs in the Del Oro Division, the Boston Kroc Center, The Chicago Freedom center and the Denver Harbor Light as examples that have all seen high rates of success in helping individuals find work that puts them on a path to a brighter future.
"One reason for this is that the service industry has a proven track record of giving people who may have had interactions with the criminal justice system or a history of substance use a second chance," she said.
And while there's been a movement to "ban the box"—that is, remove the box on job applications that asks about criminal history until after the person has been conditionally offered the position—Kiser said many are still paying a hefty price in other ways after already serving their time and debt to society.
For example, if a person was incarcerated for an extended period of time, they have likely had little contact with current technologies that most people use to get a job, such as online applications or uploading documents to attach to an email. 
Individuals experiencing homelessness also have a notoriously hard time getting a job. Getting clean clothes and having access to showers to maintain good hygiene for an interview, for instance, add additional barriers.
But advocates like Kiser and mentors like Smith are committed to eliminating as many of those barriers as possible, and clients like Gobie want to make the best of their investment toward a better future, even if it's one that's still evolving.
"Working with the team [at The Haven] and Charles—he's done a very good job of letting us try to do the job our own way," Gobie said. "He understands each person is different."
---
Do Good: 
Subscribe to

The Do Gooders Podcast

with Christin Thieme to find tangible tips for simple actions you can take today to help keep your community strong.