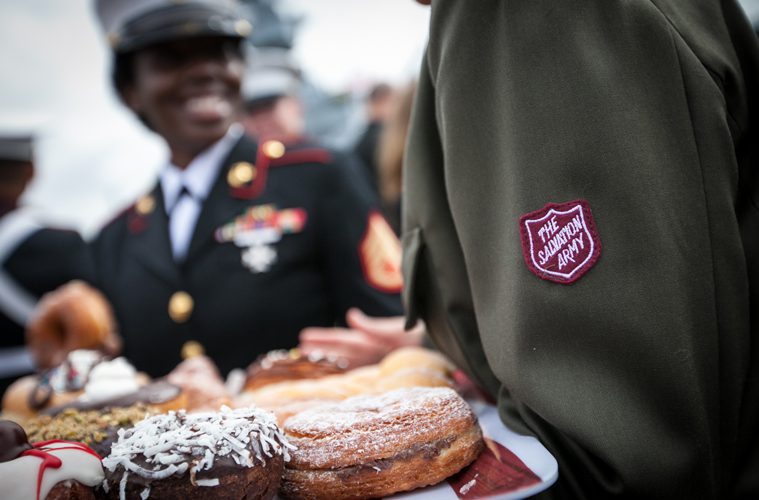 How The Salvation Army introduced America to the donut
Food historian John T. Edge credits The Salvation Army with introducing American taste buds to the donut in his book, "Donuts: An American Passion."
During WWI, Edge says that Ensign Margaret Sheldon and Adjutant Helen Purviance were sent to the front lines to give American soldiers a taste of home. Called "Donut Lassies," they didn't have an oven in which to make pies, so they settled on making donuts from leftover rations. The confections were cut from handy items, like wine bottles and shell casings and fried up in galvanized trash cans or soldier's helmets.
In one of Purviance's letters home, she recounts cooking as many as 2,500 donuts in a single day. After the war was over and soldiers returned from France, they had a mighty taste for donuts. According to Edge, there were so many who planned to open donut shops back home that the military commissioned a how-to booklet for the recently furloughed.
National Donut Day, launched in 1938 by The Salvation Army in Chicago, is held annually on the first Friday in June. It's our homage to the Donut Lassies and their contribution to the war effort.
Over the years, National Donut Day has grown well beyond The Salvation Army in Chicago and is now celebrated across the United States. No matter where you are, there's bound to be a special donut event or give away to bring honor to WWI soldiers and the Donut Lassies who comforted them. For example:
The Salvation Army and Entenmann's delivered donuts to more than 8,500 veterans, coast to coast.
In Arizona, Bashas' Family of Stores held a donut Flavor Craze Contest where entrants suggested a donut flavor.
In California, The Salvation Army and Bakemark hosted the third-annual Donut Eating Championship on the USS Midway in San Diego. Superstars from Major League Eating were on hand, including number one ranked Female Competitive Eater, Miki Sudo.
In Hawaii, Daylight Donuts, Dunkin', Regal Bakery, and 7-Eleven donated proceeds from Donut Day sales to local Salvation Army units.
And across the West, all 110 Salvation Army Family Stores in the Western United States offered free donuts to customers on Donut Day during regular business hours.
In celebration of this year's National Donut Day, Friday, June 3, The Salvation Army is celebrating across the country. See more about the festivities and find the Donut Lassies' original recipe at salarmy.us/DonutDay. You might even be able to snag a free doughnut near you.
---
Do Good: