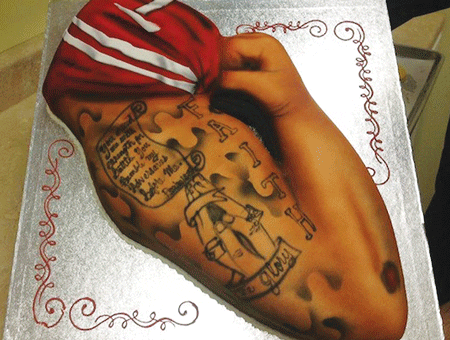 Colin Kaepernick's 'guns ' on display
Cakes in the form of 49ers quarterback Colin Kaepernick benefitted The Salvation Army.
By Buffy Lincoln 
Although the 2013 Super Bowl dealt a crushing blow to the San Francisco 49ers, it was a positive experience for The Salvation Army Red Shield in Modesto, Calif., when the Village Baking Company & Cafe sold raffle tickets for a cake designed after quarterback Colin Kaepernick's "guns."
The cake, in the shape of Kaepernick's bicep, came complete with his Psalm 18:39 tattoo: You armed me with strength for battle; you humbled my adversaries before me.
The idea for this unique cake came from Bob Miller, lead decorator at Village Baking Company & Cafe, for a bachelor party. Since Kaepernick hails from Turlock, Calif., near Modesto, they thought the style might be a small success. Once decorated, it was such a beauty that the bakery posted it on their Facebook page. They received so many "Likes" and "Shares" that the photo eventually found its way to ESPN NFL's Twitter account.
Julianne Ramos, Village Baking Company & Cafe owner, decided to sell the cakes for Super Bowl parties, and they sold so quickly that Ramos and her crew were unable to keep up with the demand. Ramos gave the final three cakes to three nonprofits—including The Salvation Army Red Shield in Modesto—to raffle off.
When Ramos contacted Corps Officer Lt. Dustin Rowe, he took two small Salvation Army red kettles to the cafe—one to hold the raffle tickets and one for the $10 cost of each ticket.
The Village Baking Company & Cafe not only donated the raffle money to the Red Shield, but also committed 10 percent of the proceeds from all of the Kaepernick cakes to the Army's Red Shield—roughly $450 between the cake sales and raffle.
The two other charities to receive a cake included Camp Taylor, a local camp Kaepernick had attended, and Turlock Educational Foundation.