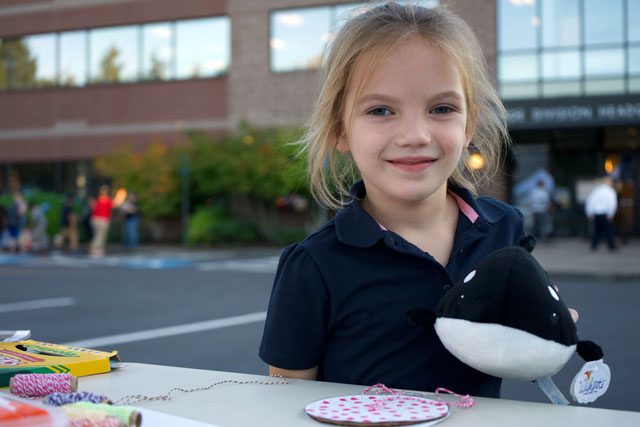 Clackamas Ministry Center programs help moms feel less alone
New programs meet needs and bring people together.
By Hillary Jackson –
It's no secret: Parenting is hard. A recent needs assessment found moms in Clackamas County, Oregon, felt isolated and alone. They wanted a place to meet other moms, seek advice and make new friends.
"We were quite shocked by the results—families wanting to spend time as a family somewhere doing something together," said Clackamas Ministry Center (CMC) Program Assistant Nikki Pooley. "We've spent a lot of time on our knees praying about what God wants and asking God to show us."
With many of the respondents living in low-income apartments that surround the Cascade Divisional Headquarters (DHQ) building, and the fact most social services are many miles away, The Salvation Army added services to its Clackamas Ministry Center that operates out of the ground level of DHQ.
"Happy Valley is known for its expensive housing, and people just don't realize that in all these apartments there are one or two-parent families that are paying high rent that puts them on the poverty line," Pooley said. "These people have really just been forgotten about."
Brandi was one of them—until she brought her family to a community event and got connected to the Clackamas Ministry Center.
"When we invited her to the September family night out with her kids, she was just overjoyed, and she signed her kids up," Pooley said. "The first thing she said was, 'My kids have been asking about God. I'm stuck somewhere between being a Catholic and being a Christian. Even I'm not 100 percent sure where I am right now, and so having this open up and being able to send my kids to a club where they can learn about God and they can learn about everything and be learning Bible verses is wonderful.'"
Brandi's kids now participate in music lessons and the Kids Club, two of the new programs hosted at the CMC.
"In Kids Club, my children have learned a lot of skills that I never would expect," Brandi said. "They learn how to do verses from the Bible and experience a lot of learning, in a lot of areas of education. That's the best part."
The new programming spreads throughout the week. On Tuesdays, children can participate in free music lessons after school, since those who responded to the survey shared they would drive up to 15 miles to find affordable music lessons.
On Thursday mornings, the CMC hosts a play group where moms can meet while their kids play. The CMC also offers a monthly Family Night Out, which has already experienced growth.
"This program is a program a lot of families need out here because you can't find programs like this that are available to low income families," Brandi said.
While the effort is still new, Pooley said Brandi's family attends regularly, and also brings other families' children, too.
"Even if it's just that one family, we've planted seeds that would start to grow," Pooley said. "God's achieved amazing things here already."