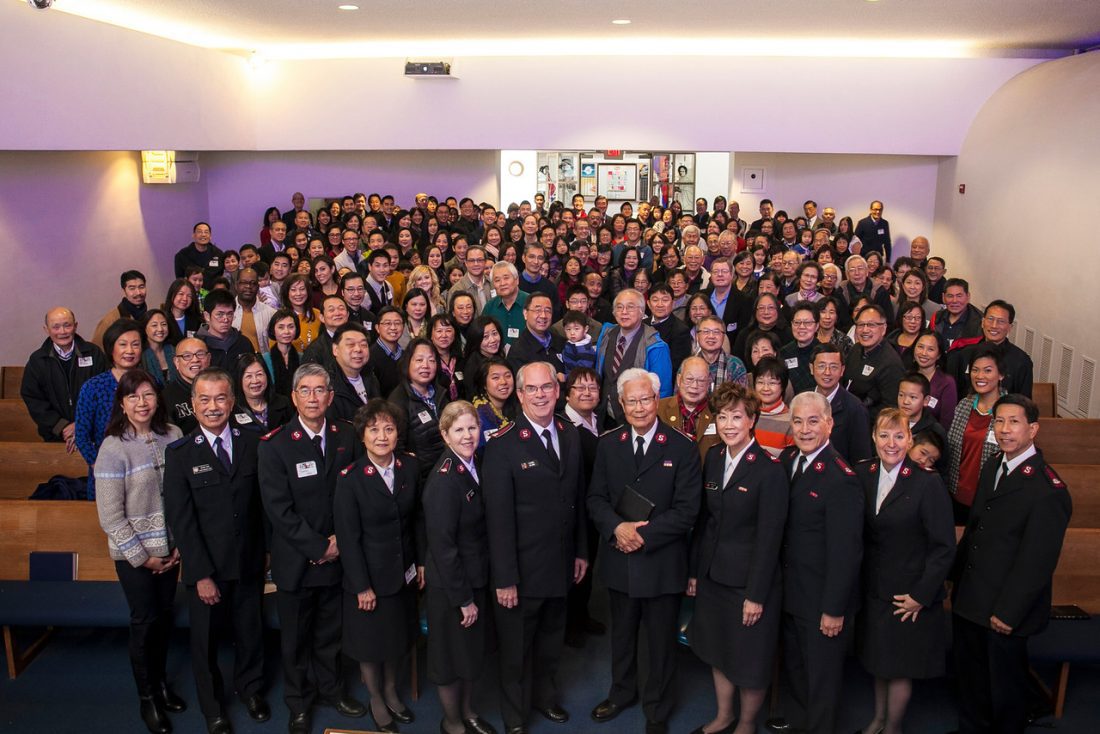 Chinatown Corps reunites
[gss
gallery ids="17280,17281,17282″]
A historic reunion brought 237 Salvationists and friends from across the country to the San Francisco Chinatown Corps with memories spanning 75 years.
Philip Lee, who left Sunday school at 19, returned for this occasion at the age of 72. He confessed to his former corps officer, then-Lieutenant Check Yee, "I am your long lost son, now found."
Leong Loy Chow, 98, left her assisted-living home for a day to join the reunion. Escorted by her family, she served as a soldier of the Chinatown Corps for more than half of a century.
Ellen Chin, a former corps leader, along with her husband, Dr. Daniel Chin, just completed a 16-year medical mission in Beijing, China. Returning home just in time for the reunion, Chin gave her testimony.
Dr. Wellman Tsang told his story of growing up in Chinatown and how, as a boy, he left his football field on Sundays to attend church, finding a personal relationship with God.
Major Keilah Toy, territorial project coordinator for the self-reliance initiative, supported by Chinatown Corps Officers Majors Thomas and Joy Mui, led the service of praise. Golden State Divisional Commander Lt. Colonel Tim Foley shared his personal Chinatown story in his testimony, saying it was here that he made a decision for full-time service as a Salvation Army officer.
Marjorie Chun received a Faith Award, presented by Lt. Colonel Cindy Foley, divisional director for women's ministries. Chun came to the corps as a teenager in the 1940s, serving in Chinatown under several corps officers.
For the majority of attendees, the Chinatown Corps served as the birthplace of their spiritual journeys. The reunion provided an opportunity for reconciliation and renewal.
Lt. Colonel Check Yee, O.F., said in his message, "Nothing stays the same in life. Yet no time or distance can ever separate us from the love of God."