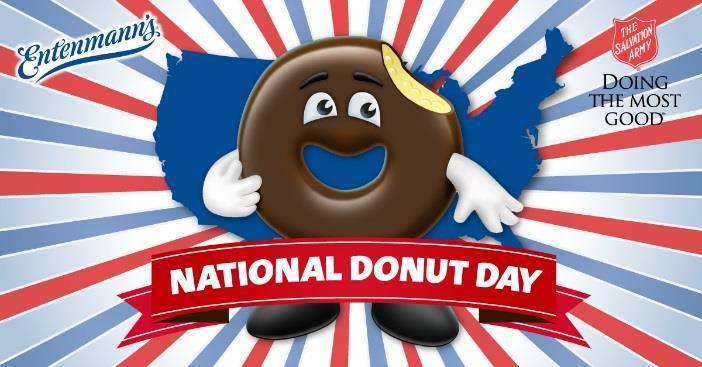 Cheyenne Corps celebrates Donut Day
By Pete Fetsco –
The Cheyenne Corps began its 125th anniversary celebration by distributing more than 3,700 donuts on National Donut Day, June 6.
Spearheaded by members of the advisory board, volunteers distributed donuts to veterans, active-duty military personnel, school children, law-enforcement and fire personnel, and Cheyenne residents on their way to work.
"We partnered with several local companies to come up with the funds to buy donuts," said Lt. Doug Hanson, Cheyenne corps officer. "That combined with a great showing from our many wonderful volunteers led to a real success."
The following day, the corps welcomed Cheyenne in to celebrate its anniversary of service to the community.  Heralded by proclamations from the Wyoming Governor Matt Mead and Cheyenne Mayor Rick Kaysen, the celebration brought together local and state dignitaries, volunteers, businesses and area residents in a celebration of the corps' history, present and future.
"We take some pride in pointing out that The Salvation Army entered Wyoming even before Wyoming became a state," Hanson noted. "Equally of note—the corps here was initiated by three female officers and Wyoming, known as The Quality State, was the first to grant women the right to vote and hold office."
Hanson honored The Business of the Year, Volunteer of the Year, and James Webber who celebrates his 50th year as corps sergeant major in Cheyenne.
The week was capped by the Sunday Worship Service, giving thanks to the Lord for 125 years of guidance and blessings, and prayers for the next 125 years and beyond.