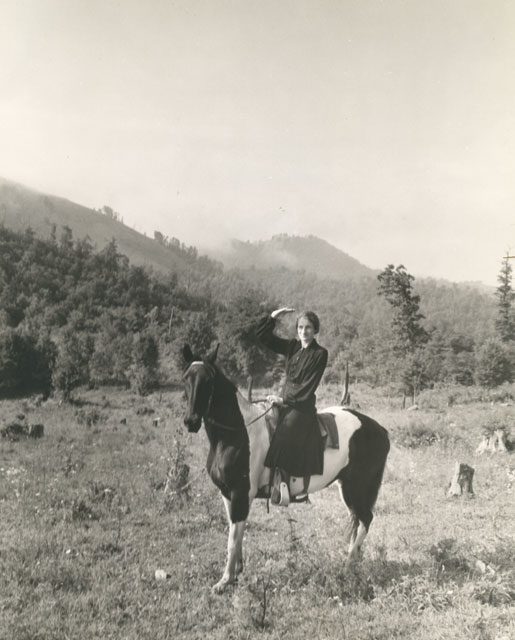 Mission in the mountains: circuit-riding pioneer Cecil Brown
Daisy "Cecil" Brown brings The Salvation Army to the Great Smoky Mountains of North Carolina.
Early in the 20th century, Salvation Army officer Major Daisy "Cecil" Brown was a missionary. Her mission field was not an exotic foreign land, but her own backyard—the isolated communities of North Carolina's Great Smoky Mountains.
"Cecil's vision was to lift her people to a higher level—spiritually, socially and even culturally—without losing their Appalachian uniqueness," writes Frank Duracher in "Smoky Mountain High: The Consuming Passion of Cecil Brown."
Born Daisy Cecil Brown Dec. 13, 1906, in a two-room cabin near Hurricane Creek in Haywood, N.C., Brown encountered The Salvation Army in 1924 and fell in love with its mission. Upon completing the Army's officer training school in Atlanta, she was eager to take the gospel message and The Salvation Army back home to the isolated families of Haywood County, where few churches existed.
After years of serving in other appointments, Brown got her chance in January 1935, when the Army gave her four months to establish a mission in the mountains. Earlier attempt to evangelize the area had failed, due to the difficulty of travel—no roads existed, just crude trails. Brown, however, knew her way around.
Brown established an outpost—the Citadel—in the small community of Maple Springs, along the border of Haywood and Madison counties. The compound contained four buildings: a church, a trading post, living quarters and a dormitory. All structures were built under the Brown's direction.
The mountain people did not readily accept women preachers, but Brown was an exception. She was one of their own, and her devotion to them coupled with the message she delivered won them over.
"They came to listen to her out of curiosity or courtesy; but at least they came, and many stayed and joined The Salvation Army's ranks," said Duracher.
During her ministry in western North Carolina, Brown wore out 18 cars, several horses and dozens of pairs of shoes and boots. It was not uncommon for her to travel rough roads-rain or shine-to hold church or drive a sick person the 25 miles to the nearest hospital. She entered many areas that even brave men approached with caution.
"No frontiers in America? No modern pioneers? Just spend a day with me," she once  said, according to Duracher. "I'm getting to be quite a hiker. The most I have walked in one day so far is 23 miles."
Most of Brown's work was done in log cabins. Her mission eventually included a school and shelter for children, craft rooms where women learned to make household items, and corps activities at outposts—including a hayloft!
One of Brown's favorite accomplishments was her annual Singing Convention. Musicians traveled for miles to perform and hundreds of music lovers attended.
Often called the "Shepherdess of the Hills," Brown became a model for successful missionary work. She had a passion she was not afraid to follow. She had no question about the population she was called to reach. She never allowed anything to deter her. She used her leadership skills but asked for help when necessary. She was available to her people when they needed her.
That four months? It lasted until illness forced Brown into early retirement in 1956; she died in 1958. Today, Brown's "Mountain Mission" comprises the four highest-altitude corps in the Southern Territory.
In a memoir written 22 years after her commissioning, Brown wrote,  "I shall never forget standing on top of the mountain here and looking over the vast mountain ranges, and saying to him, 'the mountains shall be thine!'"