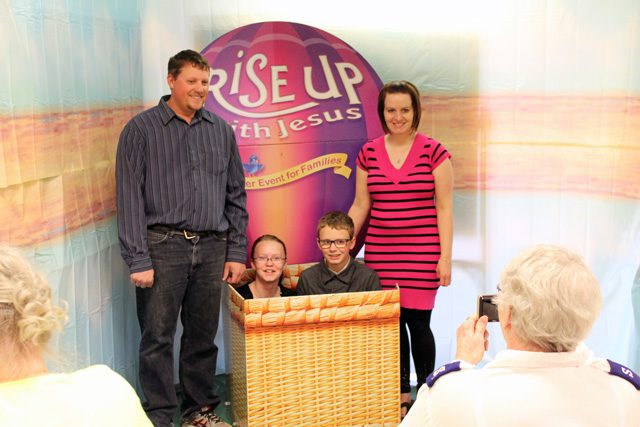 Casper rises with Jesus
By Frank Duracher, Major – 
Families of the Casper, Wy., corps enjoyed "Rise Up With Jesus," a multi-stationed event with fun and learning, on Easter Sunday.
"We wanted to try something different and this event helps parents and children to discover together the Good News about Jesus and his resurrection from the dead," said Captain Mark Merritt, corps officer.
Eight stations situated throughout the corps facility taught youth about what Easter really means. At each station, everyone was given a corresponding puzzle piece that, when they got home later that day, would portray the scene of the Empty Tomb.
"The completed puzzle may also serve as a reminder to them about what they learned," said Captain Kathy Merritt, corps officer.
The stations included an obstacle course with a huge "boulder," which the children had to negotiate without using their hands (lesson: how hard it would have been for anyone to roll the stone away by themselves); blindfolded kids were led into the "empty tomb" and were allowed to feel the rocked wall and the vacated linens left upon the slab (lesson: "Where is Jesus? … He is not here!); and Easter temporary tattoos were applied to the wrist of anyone who wants to share the news that "Christ Is Alive!" (lesson: don't be afraid to witness for Jesus).
Family members were given a framed-photograph to remember their day, and all enjoyed a hot dog dinner, praise and worship, and an Easter egg hunt.
Stephanie Wentz, who helped plan the event and took part in it with her husband and four children, said, "This is a wonderful way for the entire family to learn together about what our Lord accomplished for us, both by dying on the cross for us, and by walking out of that grave."