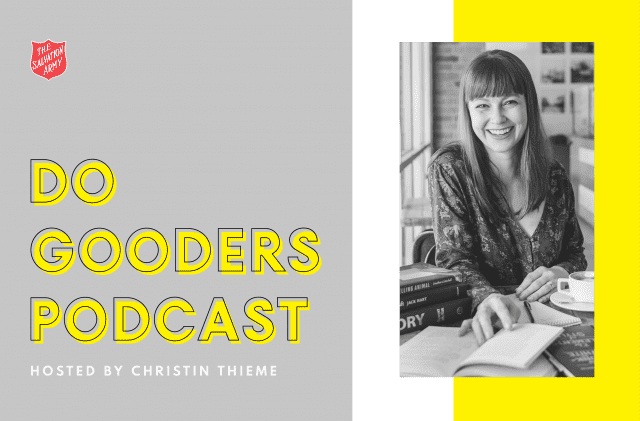 Caring Magazine launches The Do Gooders Podcast
By Hillary Jackson –
Now in its 25th year, The Salvation Army USA Western Territory's award-winning Caring magazine has moved to an all-digital format with new resources, including the weekly Do Gooders Podcast, launching today.
The podcast, hosted by New Frontier Publications Editor in Chief Christin Thieme, aims to help listeners join the fight for good right where they are, in the busyness of life. In each episode, Thieme interviews guests for ideas to make an impact—from what it means to do good, to where to discover joy, what it is really like to be homeless or how to raise kind kids.
"This podcast is a new way for us to share the stories of people who are doing good and who have good ideas with those who care about bettering the world around them," Thieme told Caring. "We all have a mile-long to-do list, but 'doing good' doesn't have to require radical commitment. There are so many simple, tangible things we all can do to make an impact right where we are, and my goal is to highlight as many of these as we can with this new podcast. At the end of each episode, I want a listener to have a specific action they can take to make some small impact on an issue we all face."
The podcast's first three episodes drop June 10, featuring The Salvation Army USA national leaders Commissioners Dave and Sharron Hudson, who discuss what it means to do good; designer, author and TED speaker Ingrid Fetell Lee on the Aesthetics of Joy and how to find it around us; and Chris Christian, a former lawyer, who became homeless and lived on the streets of Santa Barbara, California, for years on what it's really like to be homeless.
Future guests on The Do Gooders Podcast include Dr. Rick Weissbourd of the Harvard University Making Caring Common project, celebrity chef Guy Fieri and Western territorial leaders Commissioners Kenneth G. and Jolene K. Hodder. To hear each episode of The Do Gooders Podcast, subscribe via Apple Podcasts or Stitcher.   
This spring, Caring magazine announced its spring 2019 edition, "Homelessness: The Way Out," would be its last in print.
"While our format is changing, the essence of Caring remains the same," the magazine posted on its Facebook and Instagram accounts May 2. "The Salvation Army's Caring Magazine helps those who want to make a positive impact on the world get in the fight for good. That's because we believe good starts with you, with each of us. And so, we call you to action: Do Good."
Caring magazine started as the USA Western Territory's quarterly Journal of Rehabilitation and Recovery in 1994, as a way to "bear witness to Christ-centered recovery from addictions and to enrich the continued professional growth of programs and personnel," by the Territorial Substance Abuse Roundtable.
In 2002, the journal gained a new format when it became Caring magazine, changing focus slightly to The Salvation Army's holistic ministries. The Western Territory's New Frontier Chronicle staff assumed editorial responsibility.
After 100 print editions, Caring magazine made the digital shift in May 2019. Readers will still find personal stories, informative resources and highlights of Salvation Army ministry, but they'll also discover a new quiz to help them find their cause and a free email course that walks them through how to find their story.
In addition, Caring now features a new Bible study series, written by a different author each month, with the first written by Lt. Erin L. Wikle, focusing on the hope found in the first chapters of Genesis. With the Do Gooders Podcast launch, Caring has never offered more resources to support its mission: "Good starts with you."
To celebrate its launch, Caring Magazine is hosting a giveaway through June 21 with 11 chances to win big. Visit caringmagazine.org/podcast to see more and enter to win.