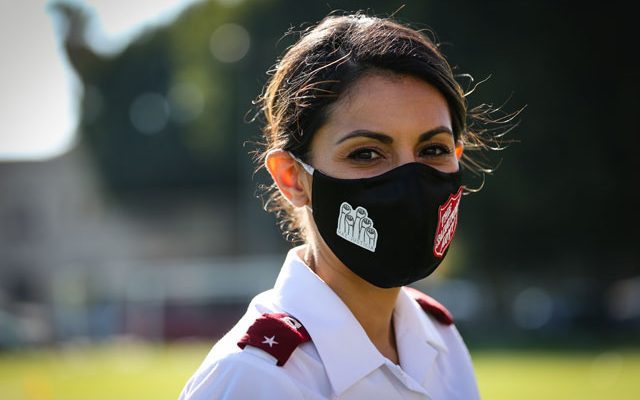 California South prayer walks promote justice and equality
The California South Division called for Salvationists and friends to participate in prayer walks recently. Observing social distancing and wearing face masks, individuals walked together to stand in the gap for racial justice, equality, healing, unity, freedom and revival—representing the love of Christ. 
Captain Elizabeth Gross initiated the idea for the June 12 walks. Gross's responsibilities in the California South Division include Community Care Ministries Secretary, Current Issues Representative, Anti-Human Trafficking, Older Adult Ministries Secretary, Order of the Silver Star, and V.A.V.S: Veterans Administration Voluntary Service Representative.
A large group gathered at the Los Angeles Red Shield soccer field, under the leadership of Gross and L.A. Central Corps Officer Lt. Cassandra Amezquita, for a family gathering and a prayer walk around the field..
Meanwhile at the Crestmont Campus in Rancho Palos Verdes, California, Territorial Headquarters officers and employees joined officers and cadets from the College for Officer Training (CFOT) in a prayer walk both on campus and in the neighboring community. CFOT Director of Field Training Major Nancy Helms and Territorial Program Secretary Lt. Colonel Lisa Smith headed up the walk, leading a group of 15. Helms prepared signs appropriate for the occasion. Prayers were lifted for the community, nation and world. The walk took place after work on Friday afternoon, so many vehicles were on the road—and the group received lots of car honks of support.
A virtual walk on the division's Facebook page encouraged people to pray for justice and racial equality from their location as well.