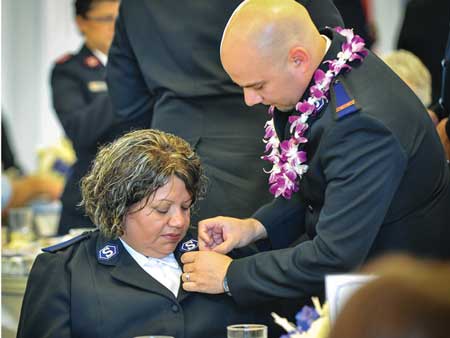 Cadets honor parents and mentors
Proclaimers of the Resurrection Session say "thank you" for support.
By Buffy Lincoln
From as far away as Korea and Indonesia, parents and mentors of the Proclaimers of the Resurrection Session met sons, daughters and friends in the Terrace Room at the College for Officer Training at Crestmont June 14 for the Fellowship of the Silver Star Banquet, along with Western Territorial Leaders Commissioners James and Carolyn Knaggs.
Lt. Colonel Shelley Hill, territorial Fellowship of the Silver Star secretary, welcomed the group and gave a brief history of the fellowship. Major Timothy Foley, training principal at the College for Officer Training at Crestmont, gave the invocation.
Following lunch, Hill led all four stanzas of "O, For a Thousand Tongues to Sing," followed by the vocal selection "Promised Land" by a cadet ensemble.
James Knaggs spoke from Psalm 33:11—But the plans of the Lord stand firm forever, the purposes of his heart through all generations (NIV)—tying it in with the story of his step-brother's and mother's separation and their attempts to reconnect through The Salvation Army's Missing Persons Services.
Following the message, each cadet presented Silver Star pins, membership certificates and personally written letters to the guests and privately read their letters to them.
Hill took the podium to introduce the "White Rose" ceremony; Major Cindy Foley read the names of parents and one spouse who had passed away. Members of the Disciples of the Cross Session passed out the roses.
In conclusion, Colonel Sharron Hudson led everyone in singing, "Christ for All, This Is the Army's Call!" Major Cindy Foley closed with the benediction.