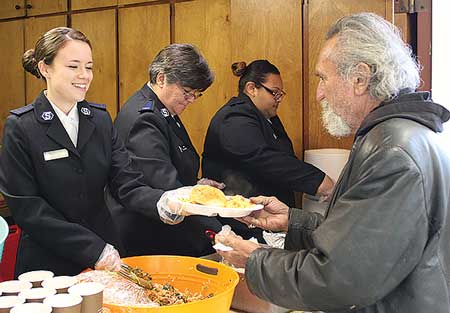 Cadets employ training in Fall Blitz
Two divisions task cadets with a variety of ministry challenges.
 By Nancy Helms-Cox, Major
Over 100 cadets from the Western Territory's Crestmont College for Officer Training (CFOT) stormed 11 different corps and communities Oct. 11-13 for the annual Fall Blitz, an opportunity for cadets to put ministry training into action.
Each brigade of 10-12 cadets traveled to destinations in the Golden State and Southern California divisions to teach, evangelize, and preview ministry as full-fledged officers. Cadets visited nursing homes, hosted carnivals, fed the homeless and painted faces and walls. At one rest home, several cadets met a Tuskegee Airman who was one of the first African Americans to serve our country as a pilot in the USAF during World War II.
"My wife and I traveled around and were able to see many of the cadets putting theory into practice," said CFOT Training Principal Major Tim Foley. "We are proud of the ministry that was accomplished. We are grateful for the support of the officers and soldiers who allowed the cadets this wonderful opportunity of service."
The Fall Blitz nudged several cadets out of their comfort zones as Korean and Spanish-speaking cadets preached in English, and English-speaking cadets preached in Spanish.
"My highlights were teaching a discipleship seminar in Spanish and preaching in Spanish," said Cadet Francine Huck, a member of the Trinity Brigade. "I'm so grateful that God has given me the opportunity to learn the Spanish language, and now he is giving me the opportunity to share his message in that language."
Individuals from surrounding corps visited The Salvation Army Camp Redwood Glen for a united meeting. While singing "What the Lord Has Done for Me," those in attendance were challenged to respond. During a time of testimony one man stood to proclaim, "God kept me sober today, so that I could come to this meeting."
The Carriers Brigade stayed close to the college to minister on the CFOT campus and at the Torrance Corps.
"It was a privilege to focus on our own kids and see the excitement the Bible stories brought to their eyes," one cadet said. "We should never be too busy doing ministry for others that we forget our kids need Jesus, too."