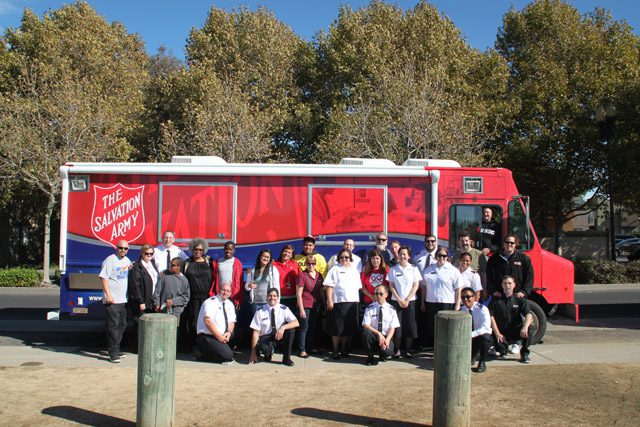 Cadets blitz Del Oro, So Cal
11 brigades put their ministry training to the test.
[gss
gallery ids="18390,18391,18389,18388″]
By Nancy Helms-Cox –
Cadets from The Western Territory's College for Officer Training at Crestmont recently took part in the annual Fall Blitz, which included 11 brigades of eight to nine cadets each, in the Del Oro and Southern California divisions.
Each cadet navigated a variety of ministry challenges, including festivals, open air meetings, serving meals, interviewing for Christmas applications, Community Care Ministries, Sunday worship, homeless outreach, and leadership training.
"At times, strategies had to be adjusted in order to best serve the need," said Cadet Roger McCort. "Through the shifts in plans, God was able to bring about victory. My greatest blessing of the weekend came from seeing our brigade working together to serve those around us."
Individuals from across the Del Oro Division gathered at the Suisun City Kroc Center, where the cadets joined them for a United Meeting with a message of the shield of salvation, service and sanctification through song, testimony, drama and God's Word.
The Lodi Corps hosted a "Trunk or Treat" community event, which drew over 1,100 individuals for fellowship.
"Over 24 gave their lives to Christ for the first time," said Cadet Tanya Pemberton. "This was an experience I will never forget."
Cadet Joleen Aycock, who served in the "Body Builders" brigade shared, "What we found when we got there [Sacramento Citadel Corps] was that our ministry this weekend was going to be less running around doing, doing and doing and more ministering to the congregation by conversing and building relationships."
Cadet Brandon Kyle—a member of the "iServe" brigade—said he was moved by the ministry he experienced in Napa, Calif.
"I had four young boys and one adult woman with a mental challenge," Kyle said of his time leading a Sunday school class. "We played games and learned about the Lord's Prayer and ended the lesson flying prayer planes around the room. The kids and kids at heart had a wonderful time together that I will cherish for years to come."