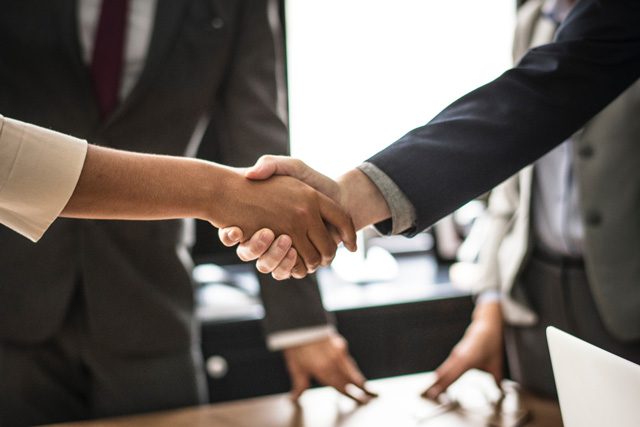 Business mogul shares leadership lessons
With Salvation Army roots, Jerre Stead found career success with a foundation of respect.
Visionary business leader Jerre Stead recently met with members of the Western Territory's Territorial Executive Council (TEC), comprised of territorial and command leadership.
With a long career leading high-tech and information companies—most recently at IHS Inc., a leading provider of critical information, insight and analytics worldwide—Stead served on 34 corporate boards and chaired 16 capital drives for nonprofit organizations during his career. He co-chaired President Bill Clinton's project to reinvent the government, and in 2013, was appointed by Colorado Gov. John Hickenlooper to oversee the state's flood recovery efforts.
Yet Stead also has a history steeped in The Salvation Army as the great-great-nephew of W.T. Stead, a Victorian journalist best known for his part in the "Maiden Tribute" campaign that resulted in the raising of the age of consent in the United Kingdom to 16. He was also instrumental in the publication of writings of Founder William Booth, including "In Darkest England and the Way Out."
Jerre Stead grew up attending a Salvation Army corps in Iowa, where he met his future wife at age 14. They married at 18 and lived in a 40-foot by 10-foot trailer in Iowa City on $2,900 a year.
He started his career with an entry position at Honeywell Corporation and went on to lead eight public companies over 38 years with an average annual return of 28 percent, landing him in the Guinness Book of Records for the best total returns during that period of time.
"We were taught to tithe and even when we were making $2,900 a year, we gave $290," said Stead, who in 2015 reportedly earned $4.9 million. "We said someday if we're ever blessed enough to make a bigger difference, we'll do it. Now we give far more away than we make and will continue to."
Stead shared his top five foundational lessons of leadership and service with TEC:
    

Treat every person with equal dignity and respect.
"This is critical, and was the closest I could come to providing Christian leadership while staying 'neutral.' We have no perks in any company I'm in. I get rid of company airplanes, cars, country clubs. I'm happy to pay people everything they should earn, but not to create 'we' and 'they' classes. I tell leaders: Never do anything that you won't do for everybody. If we're not willing as a leader to do exactly what we ask people in our organization to do, we'll never succeed."
     

Operate with 100 percent trust of every person.
"I have had had about 450,000 people work for me over the years, and 99.9 percent of the time they were wonderful people. We need to create an environment that operates with trust, that provides people the opportunity to be successful.
Two days into my work with one company, a man came in with a blue book and a grey book that detailed the company's processes and procedures. He said I was the only one in the company to get all 830 of them. I took the binders into the parking lot and burned them, even making it onto the Business Week cover.
We need tools to help people be successful. But what happens over time? Things creep in that we don't need in order to be successful. We rewrote the policies and procedures with the people to provide guidelines as tools."
    

If I had a dollar left, I'd spend it on training and development.
"It's amazing to me how little gets spent by public corporations on training and development for their people. I give people the opportunity to pick two things: What can I do to do my job better? What can I do as a person to do something I really want to learn about and make a difference? I also give people five workdays a year to go and work for a nonprofit."
    

Facts are friends.
"Today, it's harder every place in the world to sort out fact and fiction. I do an exercise of turning on MSNBC, CNN and Fox News for seven minutes each. It's the same story, but if I don't listen to all three, I don't have a clue what's going on. I ask from my team for a one-pager with the action required with a paragraph of facts, then actionable facts of what they want from me. Force one page of what needs to be done. You can always ask for more. Then, I take the action."
    

I understand and have intense curiosity about my customers.
"We need to know what our customers need, and the only way to know is to ask them and then to listen. Where I look at customer delight, profitable top and bottom line growth, and shareholder return, I believe measurement for The Salvation Army, at the end of the day, is God's return. In the middle of that circle we put sustainability.
Each of our people has a goal with a line of site to the corporation's goals so that they can tell they are making a difference. If we have more than four to five goals, the odds of succeeding are zero. When I got to IHS, the average person had 12 things to accomplish. How do you set priorities? Vision provides the beacon of where to go in the future. The mission should tell you instantly what my priorities are as a leader. So it's important to think through: What are key goals you want to see, and how do you measure so everyone can see success?"