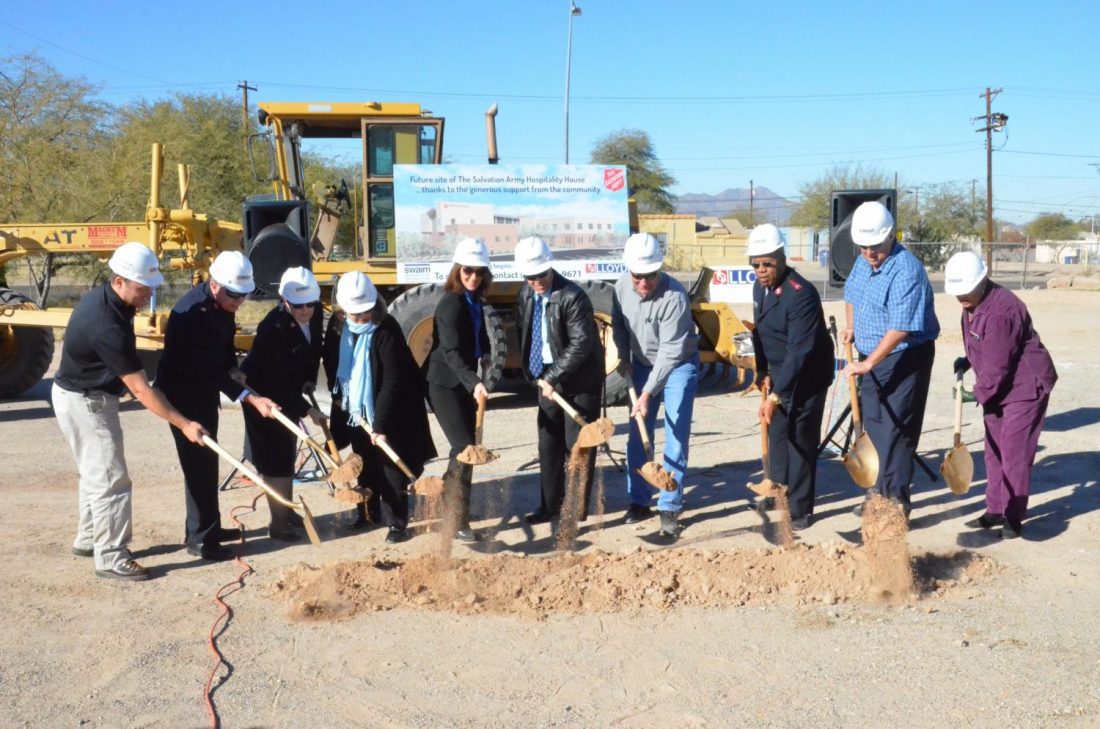 Building futures for Tucson's homeless
Construction begins on new Salvation Army Hospitality House
By Shawna Kroh – Southwest divisional leaders Lt. Colonels Joe and Shawn Posillico and city officials from Tucson, Ariz., joined together in January for the groundbreaking of a new Salvation Army Hospitality House for the homeless.
In the works for over 20 years, the project secured $2 million of the $7.5 million needed from the community and internal loans are covering the remaining construction funds. The building is expected to be completed in one year.
The existing Hospitality House, which opened in 1964, is a 91-bed facility that operates nonstop to house, feed and serve the homeless population. However, time and traffic has taken a toll on the building, and the division determined that the changing population and community needs warranted a new shelter that could better assist its clients.
"Tucson Temple was my first appointment out of training school;  I was aghast at the condition of the Hospitality House then, but I saw firsthand how men, who thought they had no hope, discovered that there was hope and grace even for them," Shawn Posillico said. "Thirty years later, this place of refuge is at a point where repairs will no longer work."
Tucson belongs to Pima County, in which 15 percent of Arizona's total population and 35 percent of its homeless population reside, according to the Arizona Department of Economic Security's Homelessness in Arizona 2012 annual report.
"The need for refuge is even greater today," Posillico said. "It's time to tear this building down, and rebuild something that will serve more people and express faith and hope to those in need."
The new shelter is projected to be one of Tucson's largest homeless shelters, and will replace the existing one. The goal is to provide safe shelter, food, and support services, as well as offer an avenue towards self-sufficiency. The shelter will provide a 109-bed facility, two family units, and veteran and special needs programs.
"This project has been designed to fill a community-wide need and is a huge step toward a new beginning for so many homeless in Tucson," said Major Clement Leslie, Tucson area coordinator. "We hope Tucsonans come forward to support this and donate the necessary funds to make the shelter a reality."