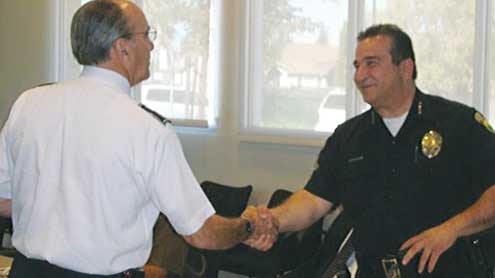 Building an advisory board in Suisun City
New Salvation Army community center has a board before a building.
by Stefanie Vrapi
With the demolition dust not yet settled, an advisory board has been taking shape in Suisun City (Calif.), for a new Salvation Army community center set to open in late 2011—a premiere program for the Del Oro Division.
Focusing on healthy living for the body, mind and spirit, the multi-million dollar community center will feature a rock climbing wall, lap pool, group exercise classes, weight rooms, cardio equipment, banquet and party rooms, classrooms and a chapel for worship.
While the demolition and construction phase is just beginning, big plans exist for what is now just an empty shell of a building. An advisory board, consisting so far of five community leaders, is working alongside newly appointed corps officers, Captains Jonathan and Vickie Harvey, ensuring the daily implementation of these plans.
The facility, once inhabited by another non-profit, is located right in the middle of an active community.
"Our neighbors are checking in with me every day, wondering when this place will open," said Harvey. "I tell them that right now patience will have to be a virtue because although this center isn't something they can use right away, I know they will be surprised with the outcome—there is nothing like it in the community. Most importantly, we believe it will be a place where lives are transformed."
Building an advisory board was an important step for the initial phases of this project. It will represent a wide spectrum of the community and presently includes Ed Dadisho, Suisun City police chief; Suzanne Bragdon, city manager; John Hodson, local attorney; Steve Lessler, president of The Lessler Group, a leading business development agency; and Mike Jessop, parks and recreation director.
With the support of the community—advisory board members included—the Harveys plan to offer the variety of programs their neighbors need. With the board advising them, they believe the center will provide quality programs for the residents in Suisun City and surrounding areas.