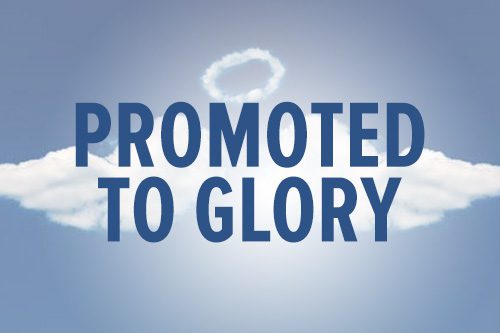 Brigadier Martie L. Abella
May 4, 1920–March 5, 2020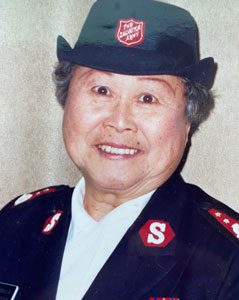 Brigadier Martie L. Abella was promoted to Glory March 5 from Auburn, California.
Martie Duero Ledesma was born May 4, 1920, to Victoriano and Esperanza Ledesma in La Paz, Iloilo City, Philippines. After graduating from high school, she completed studies in fashion and hair science at the Parisian School of Fashion. She later majored in nursing and received her Licensed Practical Nursing certificate at Sacred Hearts College.
At age 19, she gave her heart to Jesus during her first visit to a Sunday service at The Salvation Army La Paz Corps. She soon felt called to officership, and in 1939 she entered The Salvation Army Training School in Baguio City with its first session, the "Steadfast Session." After nine months of training, no formal commissioning ceremony took place, and she took her first appointment at territorial headquarters (THQ) in Manila.
When World War II broke out in 1941, THQ was under siege, but after three months she and her fellow officers were freed. Ledesma remained at that appointment until the war ended in 1945. She was then assigned to open the work in San Jose, Antique. 
Adjutant Florencio Abella from Hawaii began a friendship through letters with Ledesma. After two years of correspondence and with much prayer, Abella proposed marriage and Ledesma accepted. They were married at the Manila Central Corps May 6, 1948. 
In August 1948 they traveled to Hawaii and began their ministry together.  They served on four major islands with appointments at the Lahaina and Kahului Corps on Maui; Honokaa Corps on Hawaii Island (Big Island); Hanapepe and Lihue Corps on Kauai; and the Honolulu Citadel and Kaneohe Corps on Oahu. A highlight was their ministry to youth, families and communities in the sugar plantations. They also initiated community Thanksgiving meals on each island, which continue today.
In 1968, the Abellas were sworn in as naturalized American citizens, which was a dream come true for them. 
They retired in 1973 to Kailua, Oahu. Martie Abella continued working specifically with the elderly for the next 17 years at The Salvation Army Malama Makua Senior Day Care Center, the Ann Pearl Care Home and the Palolo Chinese Home.
She remained a faithful soldier of the Kaneohe Corps and was actively involved with the Home League, Community Care Ministries and Older Adult Ministries, and she loved going to Camp Homelani. She was also a member of the Pali Senior Club and Grandmother's Club in Windward Oahu. She received recognition for her service: in 1993, the First Lady's Outstanding Senior Volunteer Award; in 1996, the Mayor's Outstanding Senior Volunteer Award; and in 1998, The Salvation Army Women of Excellence Award.
Abella enjoyed cooking, baking, sewing, making handicrafts and painting.  Her gifts of love, mercy, generosity, preaching, teaching and evangelism will be a living legacy to all she ministered to.
Her husband Florencio Abella and son Samuel Abella preceded her in death.  
She leaves behind her sister, Elizabeth Ledesma; sons, Joseph (Susan) Abella and Major Daniel (Carole) Abella; daughters, Major Florence (George) Rodriguera and Lt. Colonel Lani (John) Chamness; grandchildren, Abram and Nicole Abella; Jenelle (Pat) Anchetta, Joseph E. Abella, Erica (Gabriel) Kahaleuahi and Emma Ball; Christopher Rodriguera and Captain Craig (Arwyn) Rodriguera; Daniel, David, Sarah and Naomi Abella; and Lindsey, Mitchell and Camille Chamness; and 15 great-grandchildren and four great-great-grandchildren.