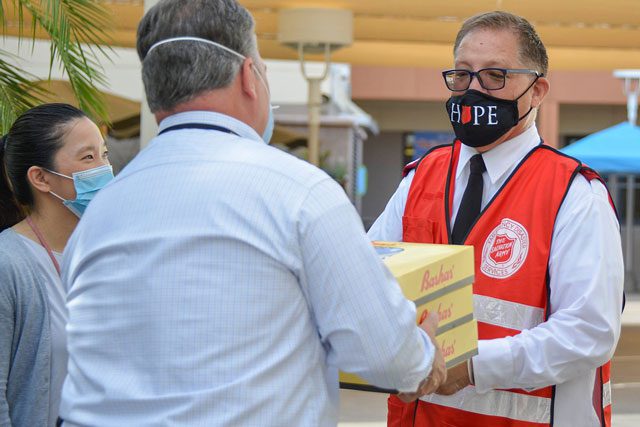 Bashas' partnership steps up to serve Arizonans in need during pandemic
By Scott Johnson –
For the past several years, Bashas' Family of Stores—a family-owned-and-operated Arizona-based grocer that began back in 1932 when brothers Ike and Eddie Basha, Sr. opened the first Bashas' grocery store— has designated The Salvation Army as a Charity of the Month recipient, with all proceeds of the point of sale campaign going to a specific Salvation Army program.
This past July, the Charity of the Month campaign was focused on The Salvation Army Emergency Disaster Services' (EDS) efforts in Arizona. The Salvation Army EDS has been on the front lines during the COVID-19 pandemic, serving the most vulnerable Arizonans with vital food, household goods and rent and utilities assistance, and also providing things like meals and supplies for evacuees displaced by wildfires; PPE, food and beverages for the brave healthcare workers and first responders who keep us safe; and life-saving hydration to people living outdoors in the unforgiving summer heat.
During July, customers of Bashas' and Food City were given the opportunity to donate to The Salvation Army EDS at store registers across Arizona. The month-long campaign raised an astonishing $186,175.
"When Bashas' first gave us the news, we thought it might be a typo," said Southwest Divisional Secretary and Metro Phoenix Program Coordinator Major David Yardley. "When we discovered it was indeed accurate, we were overwhelmed and extremely grateful."
"The Salvation Army is grateful to Bashas' for providing this platform and, and we express our heartfelt gratitude to its customers for their generosity in helping our neighbors in need," said Southwest Divisional Commander Lt. Colonel Kelly Pontsler. "We are truly blessed to have Bashas' as a community partner."
Bashas' Family of Stores have generously supported The Salvation Army for decades. They've welcomed Red Kettles at their storefronts (and their associates often ring at kettles), and the Basha family comes loaded with gifts each year when they work at The Salvation Army Metro Phoenix's Christmas Angel warehouse. They've donated to wildfire relief and children's programs, and for years on National Donut Day, Bashas' has donated 10 percent of all donut sales across their stores in Arizona to The Salvation Army. This year, Bashas' donated several dozen donuts that The Salvation Army took to healthcare workers and first responders around Phoenix to thank them for their service during the pandemic.
"The Salvation Army provides critical services to thousands of Arizonans, whether in a crisis situation or to simply meet the needs of the underserved community," said President & CEO of Bashas' Family of Stores Edward "Trey" Basha. "In times of uncertainty, our customers continue to show their support for their neighbors through our Charity of the Month program. Coming together to support one another is critical right now, and we are honored to be part of this great Arizona community."
Bashas' Family of Stores – which operates Food City, AJ's Fine Foods, Eddie's Country Store, and both Bashas' and Bashas' Dine supermarkets – is one of the largest employers in Arizona, with more than 100 grocery stores. Since the company's inception in 1932, Bashas' has given back more than $100 million to the communities it serves.
HOW TO HELP:
If you'd like to make a monetary donation, please

click here to make a gift.

Text 'GIVE' to 52000 to make a $10 donation to The Salvation Army. This will automatically add a one-time donation to your next mobile phone bill.

For information about volunteering, please visit

volunteer.usawest.org

.

To learn more about how to support The Salvation Army's relief efforts,

please click here

.